Surviving the Christmas countdown
Don't end the term collapsed under a heap of paper chains, unable to enjoy the holidays and your own festivities. Follow these steps for Christmas countdown survival!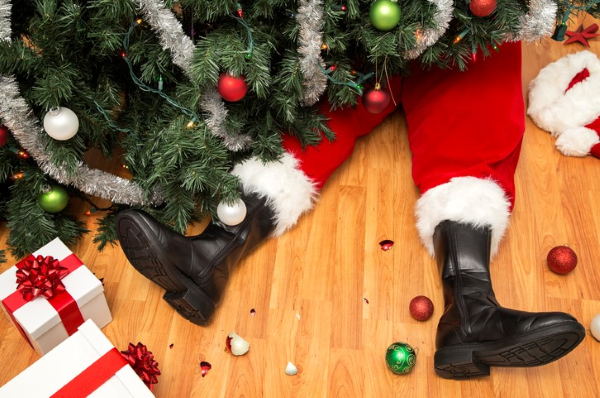 It has begun. Trees are going up, toy adverts are everywhere and it's just two short weeks until pupils arrive in school with culturally-sanctioned chocolate for breakfast.
You know the drill: spend weeks covered in glitter, having lessons interrupted by Christmas card deliveries. Survive the horrors of the Christmas disco. Find yourself losing the plot during Christmas production rehearsals and then return home at the beginning of the holidays clutching a large plastic box of stuff you don't want (and hopefully some wine and chocolates), so tired that every Christmas advert on telly reduces you to tears.
The first day of the holidays, you wake up with a sore throat and cough. Which finally disappears the day before term starts again. 
So, how you can safeguard your mental and physical health so that you can enjoy the festive period both in and out of school, rather than imploding on the last day of term, lying amongst a pile of cheap bath products and 'best teacher' mugs?
Step 1: Plan
Find time to plan the weeks running up to Christmas. If it's your thing, get some good stationary and list your way to some festive calm (or for the really dedicated, make it part of your Bullet Journal). Take yourself off for an hour with a gingerbread latte, or listen to some festive tunes.
Look at the time you have dispassionately and see what really needs doing. You might need the eye of a wise friend here to help you cross some things off the list.
I have one relative that did the full 'Delia's Christmas' one year: a recipe for festive misery and highly neurotic behaviour over 24 pigs in blankets.
Overwrought, strung-out people are no fun to be around
I involved my daughter in planning the things we definitely want to do this Christmas: watch 'Elf the Musical' about fifty times, make a gingerbread house.
Be reasonable and underestimate how much time you have. Unexpected free time can feel like a luxury. Check that you have included the things that you want to do. Knowing you have taken these into account avoids feelings of resentment as you are in control and are having your needs met. 
Step 2: Lower your expectations
You can't do everything. It's worth remembering that over-doing is an anxious behaviour and overwrought, strung-out people are no fun to be around.
If you are struggling with this, go back to mental health basics: sleep, self-care, fresh air, exercise. Use the solution-focused method: find someone who manages stress well and get really curious about how they do this. 
Step 3: Enforce hygiene
Get kids and staff to wash their hands and mobilise other staff to reinforce this. 
Avoid sharing food (where possible). I spent Christmas 2012 in bed whilst heavily pregnant due to a plate of (amazing) samosas in the staffroom. We all went down with the worse cold and cough in history, or it felt like it anyway. If you can't stay away from the staffroom treats (and not many can), avoid touching your nose and mouth as this reduces the risk of infection. 
Step 4: Outsource
We are all in it together. Use the collective to make Christmas happen. If you are present shopping, speak with friends and bulk-buy for others. Delegate or share tasks with others.
In school, let people help you: often as people become more stressed, they refuse help from others. Make a conscious decision to help colleagues.
Boost your serotonin levels buy taking time to share the great stuff that happens every day
You could even create an 'Elf' board, where you can post for help and see if the secret elves can help you (don't forget to let us know if they do!).
Step 5: Cover the health basics
Drink water, take vitamins, SLEEP and enjoy time outside. Use your planning to make this happen. It's tempting to burn the candle at both ends over Christmas, but to feel good, you have to take care. 
Step 6: Be grateful
I personally detest group presents, largely because I left the classroom before they became 'the thing'. I've never benefited from a spa day as an end of term present, but I was very happy with thirteen boxes of Quality Street and a stolen magnet, thank you very much.
Look for the good. Boost your serotonin levels buy taking time to share the great stuff that happens every day in education. The faces on seeing (the caretaker dressed as) Santa. Touching messages in cards. 'Best teacher' mugs. The tiny little everyday things that make working in education one of the most heart-warming, joyful and rewarding jobs out there.
Happy Christmas!
More wellbeing reading
Positivity pays: the art of solution-focused thinking
SENCOs: make the end of term festive, not frantic!
The mid-winter blues: helping ourselves and helping colleagues
How to improve teachers' post-maternal wellbeing