'They said we couldn't do it' – a celebration of 25 years of Disability Equality in the Classroom
I have always been influenced by powerful messages and none more so than those in the book Incurably Human by Micheline Mason. Last weekend I was not only able to meet Micheline personally, but was also fortunate to deliver a keynote address at the event marking 25 years of a struggle for equality and inclusion. Joe Whittaker, the Chair of ALLFIE, opened the morning session by highlighting that Disability Equality in Education in the classroom: a human rights issue is an important piece of work in providing a vocabulary to address issues of inclusion.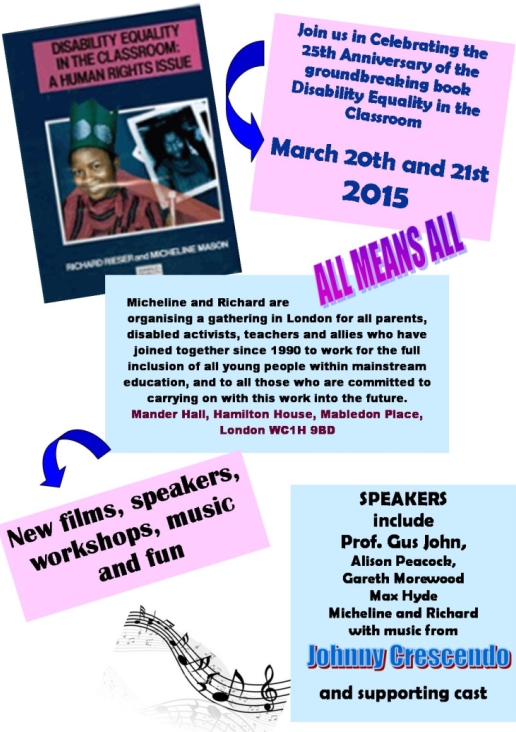 Micheline then addressed the gathering with the opening keynote, describing how their work (with Richard Rieser) had been hugely influential in initiating conversations to challenge and discuss ideas on inclusion. She continued by pointing out that it is very important to have open communication about these topics between professionals. When talking about the book, she described its history and how one of its chief selling points is that much of the content was sourced from disabled people telling their own stories. Maureen's story Maureen was Micheline's neighbour and grew up as a disabled child during the Second World War. She was born with spina bifida at a time when people were ashamed and terrified of disability. Maureen was abandoned in hospital, for the first 5 years she didn't leave its walls. She had no one to tell her story to and lived in institutions until 16, when she was then 'returned' to her family... a family that didn't know her. However, Maureen forged great a friendship with her brother and out of oppression came a very powerful story. Micheline's story Micheline talked of her personal story; she had no school or teacher and was often told 'the best thing is to stay at home'. It was a constant discourse of 'no' and 'never'. 'It is a shame she is so clever' people said of Micheline, 'it would be best not to know'. She described how she used to think a lot and joked 'I had lots of time on my hands!' She had to struggle against all the negative things that were said about disabled people, who, as a group, were not seen as oppressed in the 70s but as 'poor' and 'unfortunate' and as 'charitable cases'. Micheline was fortunate that circumstances allowed her to meet other disabled people and together they were able to establish positive language and a community of support. Micheline was part of the resistance movement re-defining their position.
'Everyone has an equal right to be in the world, whoever you are'
As the Inner London Education Authority (ILEA) was in its last throws, Micheline wanted to create a document that encapsulated thinking about disabled young people and change practice in education. The beginning She started talking with Richard Rieser, and they began planning the book. They wanted it to be a combination of research, initiatives to use in the classroom and, most importantly, they wanted the book to be by lots of people. 'It was the first time disabled people were asked to contribute to something like this. We had never been asked but we weren't going to wait to be, so we went ahead anyway', Micheline noted.  'Inclusion is about relationships. Segregation of any sort is to be challenged. The struggle is going to go on for the rest of our lives so we may get used to enjoying it'. This was one of the most inspiring moments of my life; hearing Micheline's story first-hand. 25 years since the publication of Disability Equality in Education in the classroom: a human rights issue there are many advances and changes in the defining of inclusive education. However, there are always struggles and even more so at this time of significant educational change. It is important to bring Micheline's agenda back to the front of policy making and discussions, and to further define a discourse of inclusion in the current educational climate.