Therapeutic Storywriting Groups
Intervention strategies that improve academic achievement and wellbeing are few and far between. Elizabeth Holmes finds out more about Therapeutic Storywriting which does both.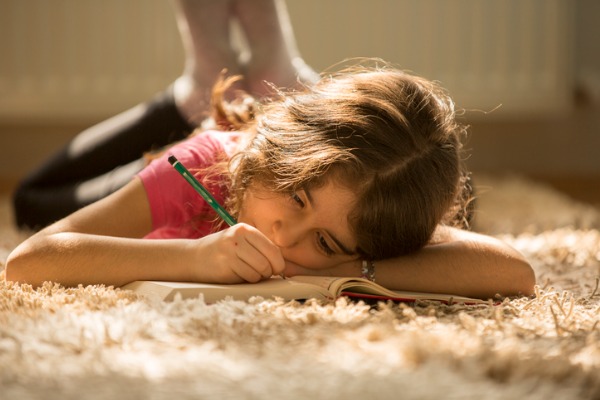 When the issues that some children face in their lives are such that they are at risk of missing out on school life and learning, and even at risk of exclusion, we need to intervene in order to improve their chances of success and enjoyment at school and beyond. Yet while intervention strategies are many and varied, most seem to focus on either academic achievement, or on mental health and wellbeing. Very few seek to address both.
Therapeutic Storywriting Groups, however, is an intervention that does manage to do both, using the metaphor in stories written by both pupils and teachers to address emotional and mental health issues that are impeding pupils' learning. Most pupils referred to the Groups will be on the special educational needs register.
Mindfulness and a feelings check-in
Dr Trisha Waters, founder of the Centre for Therapeutic Storywriting, developed the Therapeutic Storywriting Groups and Story Links models with the aim of helping teachers to support pupils' emotional wellbeing while also developing their literacy skills. Dr Waters explained, "Teachers supporting pupils with emotional difficulties can find themselves wondering whether to prioritise the pupil's mental wellbeing or to focus on their academic achievement."
Therapeutic Storywriting Groups are small; around 4-6 children usually aged between 7-12. The Groups meet for one hour once a week over ten weeks to write stories inspired by a story opener supplied by the Therapeutic Storywriting Groups practitioner. Each session begins with a mindfulness moment and a feelings check-in for children and adults. Then one pupil's story from the previous session is read and a new story opener is given – typically a phrase or a sentence. Then the children and the teacher/practitioner write a story, share their stories and draw pictures. The session ends with a mime game.
Understanding story metaphor
The teachers and education practitioners involved in Therapeutic Storywriting Groups need to be able to understand the relationship between emotional and cognitive development in a child. They also need to understand the significance of story metaphor. This is not about the analysis of the stories that children write. It is about staying within the metaphor, so for example, if a child writes about Nelly the Newt feeling scared, all discussion of the story remains in the metaphor.
As Bruno Bettelheim wrote in his book, The Uses of Enchantment, "When unconscious material is to some degree permitted to come to awareness and worked through in imagination, its potential for causing harm – to ourselves or others – is much reduced; some of its forces can then be made to serve positive purposes." The metaphor is therefore the interface between the internal and the external world.
You imagine your own characters and put yourself in their shoes. You think about them and not yourself.
The benefits
As an evidence-based intervention, it has been shown to enable children to develop cooperative and trusting relationships with their peers, to help them to process their emotional experiences, to lead to significant improvements in pupils' emotional vocabulary and their sense of belonging.
In addition, research has also shown that it has led to significant academic gains in terms of pupils' writing achievement, and an increase in pupils' use of emotional vocabulary which indicates a development in pupils' understanding of emotions.   
For Dr Waters, the fact that there is a dual purpose to Therapeutic Storywriting Groups is a strong contributing factor in its success. She explained, "They provide an emotionally containing environment in which pupils are encouraged to write stories in which they can project their own worries and concerns onto story characters. By working through the emotional safety of story metaphor, pupils are able to discuss and process feelings that might otherwise be overwhelming or inappropriate to share in an educational setting."
Budding young writers
What makes this approach different from other therapeutic interventions used in schools, such as play or art therapy, is that in Therapeutic Storywriting Groups pupils are engaged in actually writing out their stories and thus also developing literacy skills. And it's popular with children too. This is Liam, a Year 4 boy, describing his time in the sessions: "We have relaxation time to get all of your feelings out – if you're sad you can get your sad feelings out and cheer up and it can really calm you down. After relaxation time we draw pictures and write words about how we're feeling and then we share our feelings with the group and put them on the feelings ladder. And after [that] we do stories which get you adventurous and you want to write more stories. If you look at my book - you start off with little stories and then get better and better."
Ira in Year 5 was equally enthused, "You can get your feelings out and write them down so you don't feel so bad. You can just relax and let feelings out and write stories," while Maya, Year 6, highlights the use of the metaphor in the storywriting: "It's for people who may have had a few problems and need someone to talk to.  You can write stories and talk about problems but don't have to say it is you."
For Miles in Year 6, the story metaphor allows him to put himself in the position of "the cornered guy", "I can visualise a place – like this guy's cornered and he's dodging bullets and he's starting to shoot back at them. You can think how you'd feel if you were in his place… I really like doing that". Nina, also Year 6, said, "'You imagine your own characters and put yourself in their shoes. You think about them and not yourself".
As an evidence-based intervention, it has been shown to enable children to develop cooperative and trusting relationships with their peers.
Respite and growth
The academic benefits to be derived are clear in the research but it is interesting to see how the children who have experienced Therapeutic Storywriting describe the improvements they have seen in their own work. Ira, Year 5 said "It's helped me to concentrate more – I never concentrate in class. I daydream and stare out of the window," while Martha, also Year 5, said, "In class I used to write two lines in an hour. Now I write loads when doing a story. On Tuesday I wrote 1 ½ pages and finished in ½ hr."
At a time when we so desperately need evidence-based interventions and strategies that will support children through the difficulties they are facing both emotionally and academically, it is positive to know what can work. While there may be a need for further professional support for children taking part in Therapeutic Storywriting Groups, it seems that the time they spend working with metaphor in a safe environment with clear boundaries, offers the potential for both respite and growth.