SEND assessment: giving up control of lesson observations
Lessons at a special school can involve at least 7 activities happening at once. Simon Yates explains why this has encouraged Chailey Heritage Foundation to change how they monitor the quality of teaching.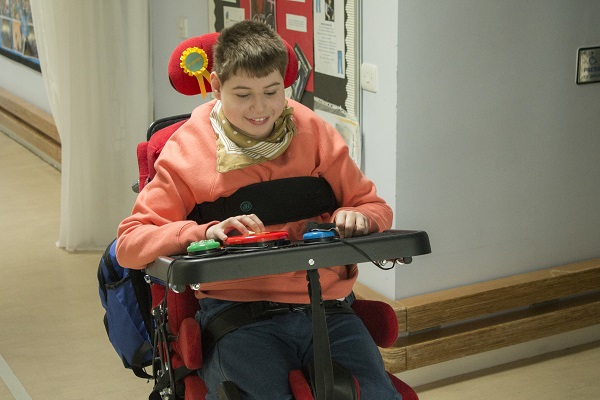 In my previous blogs on SEND assessment, measuring our progress, not the pupil's and facing the firing line, I've recounted how we are moving away from the idea of 'comparative data'. We don't believe it's actually possible to meaningfully compare the progress of such complex pupils with anyone else, in our school or elsewhere, and we don't see the value of trying.
So the natural questions for us, from governors and inspection, are around our expectations of progress – are we demanding enough in the targets (my next steps) that we set? This, I hope is covered by the explanation of our systems of profiling and co-production of targets with therapists and parents given in my previous blogs.
The quality of teaching
How do we know our teachers are delivering an outstanding quality of teaching (integrated with the work of the therapists of course)?
I've covered the learner progress interview (LPI), which is a major part of this already, but there's lots more. However, the robustness of the LPI has enabled me to be less rigid about some of the other monitoring methods, in particular the lesson observation. This has been an interesting journey.
Up until now, there have been two formal observations per teacher per year. When there has been a less than 'good' lesson observed, there have been re-observations. These had all been carried out by me (control freak?) and my school improvement consultant, sometimes paired to check out my judgements. At our last Ofsted we were picked up on this, and told to share it out a bit and skill up other middle managers. As it turns out, we've taken it further, and here's why.
Read Simon's original article and delve deeper into SEND assessment options by downloading our free toolkit.
No more 'traditional' lessons
I have been talking with lots of special school leaders at conferences recently, and many are in the same position as I am. We just cannot expect to see a 'lesson', in the traditional sense, in our schools anymore. When a recent Ofsted inspector asked for timetables at the beginning of our inspection, and to see 'a maths lesson and an English lesson', it was a scary few minutes. Fortunately I managed to get my point across. We don't work like that, we can't.
A lesson these days, for most of my classes anyway, is a teacher and/or therapist orchestrating and managing seven different activities at once.
Even if the whole class is engaged in one activity, which is rare, each child is learning different skills, at different levels, with different motivators. My most recent lesson observations have been focusing on:
how well the teachers managed all these activities
how secure the TAs were with the next steps they were meant to be working on with each child
how well they facilitated the opportunities to develop skills
how well they observed, recorded and fed back to the teacher about progress.
Part of my old lesson observation form here: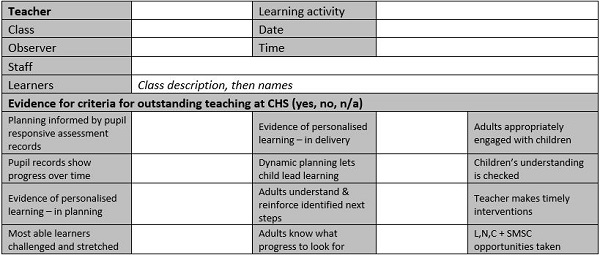 But things have moved on even from there. Every child has their own timetable now, overlaid on the teacher's ideas of what might be happening that week/day/hour. Children come and go (always for a purpose) and activities have to be flexible and fluid. There's an awful lot of 'reactive planning' as well, following the needs of each child at that moment. Children may be asleep, recovering from a seizure, needing to let off steam, meds may just be kicking in, and so on. So we need to be very responsive to their state, and have Plan B, Plan C, and Plan D, already in place.
Teacher observations
So how do we observe that? My teachers had become increasingly critical of the idea of me and a consultant appearing from our lofty perches and thinking we're able to understand what's what in a lesson:
what's entailed in managing 7 or more TAs
altering timetables by the minute
overseeing medical issues
ensuring learner progress.
I've always prided myself on my astuteness in seeing when something is quality – meaningful and purposeful – in any educational situation (I still do). But with the LPI in place, I felt it was time to give in.
Now teachers have taken on lesson observation themselves, even down to sorting the criteria, paperwork, date setting, feedback and reporting. They are agreeing what should be observed and how, and developing new systems for supporting each other.
Here's part of the form they have developed: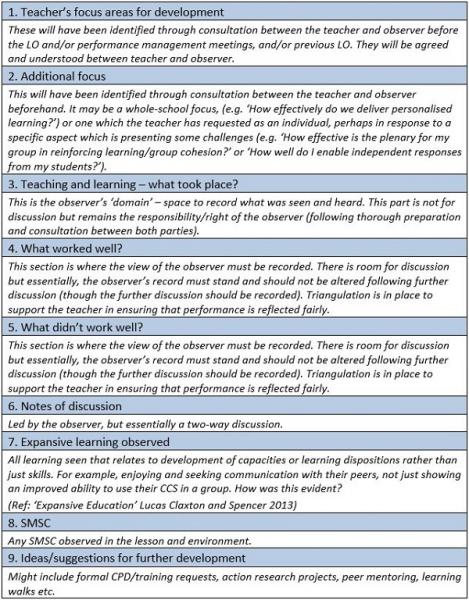 My only addition to their ideas was SMSC, and I'm very proud of them. It feels really positive and I'm glad I've done it.
Of course, I still have my other 15 (and counting) methods of monitoring the 49 (yes, really – I can show you the spreadsheet!) aspects of outstanding teaching at Chailey Heritage, so I don't feel too out of control!