A new school year, a fresh approach to SEND?
Opportunities to improve practice and share ideas can benefit new and experienced SENCOs alike. Gareth D Morewood shares some simple advice to kick-start the new term.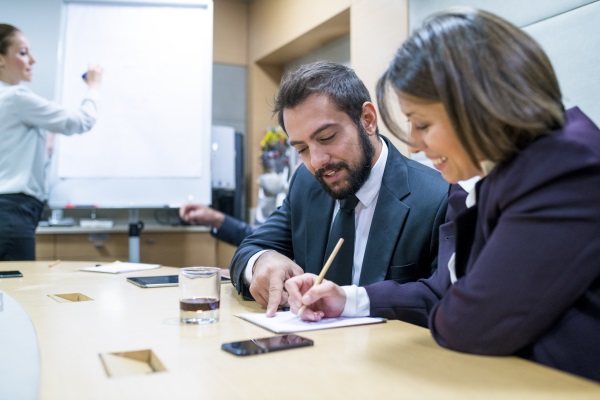 The beginning of a new academic year is a great time to consider how we can all become the strategic SENCOs we aspire to be. This might be one of the few opportunities we will have to plan for effective SEND provision, so it's not to be wasted.
I have written previously about the best ways to support new SENCO colleagues, but it's important to remember that even the most experienced among us should always be looking to improve their practice and achieve better outcomes for young people and their families.
With this in mind, it's worth taking some time to share what advice, expertise and resources we can amongst ourselves, if only to go some way in overcoming the common challenges we face. In writing this post I took inspiration from the #sencochat that took place on Twitter this week, the first of the new school year. You may already know that my Twitter expertise isn't all that, but I found it easy to respond to the questions and comments and I'd definitely recommend that readers give it a try when the next chat takes place.
As I thought the discussions so useful, I decided it would be good to offer readers a summary of some of the key points.
#sencochat is a Tweetchat that takes place every Tuesday from 7.00pm to 8.00pm. Participants can contribute by sharing ideas and advising others through Twitter. It is ideal for SENCOs or anyone else with an interest in SEND and inclusion.
Planning
Q1 - A question I've seen a lot this week, who has a good link to a SENCO calendar? #sencochat

— SENCO Chat (@sencochat) September 4, 2018
The first question asked for any good links to year calendars that can help SENCOs with prioritising various tasks. There were some great examples in the replies, such as Optimus Education's SEND year planner, the SNIP SENCO calendar and the Teacher Toolkit wall chart.
While there is a greater need than ever for a strategic approach to SEND, I've never been one for prescribing tasks for the whole year, or even a term, too far in advance. But to a new SENCO in particular, having the awareness of timeframes, lead-in and mandatory tasks can be invaluable. Someone also provided a link to a mental health calendar, which I think could be really useful for colleagues as part of raising awareness and encouraging positive discussions about mental health in lessons and through assemblies. Keeping positive, open discussions about mental health high on our agendas is important and this handy calendar will help colleagues schedule and plan events throughout the year.
Time management
Q2 What are your top tips for for managing the SENCO role and not letting it get on top of you? #sencochat

— SENCO Chat (@sencochat) September 4, 2018
The next question was one that comes up time and time again (no pun intended): how to manage time effectively as a SENCO, and avoid letting things get on top of you?
This is a very tricky area: some colleagues teach a lot or have so many additional whole-school duties that they struggle to work effectively as SENCO. But whatever the circumstances, the amount of time needed to fulfil SENCO duties is too variable to be computed by formula or process. Never has it been so important for SENCOs and headteachers to personalise the allocation of their time.
Time management has been at the forefront of discussion constantly throughout my career, and in the current climate it's unlikely to go away any time soon. For further advice and practical tips, consult the articles in the 'Further reading' section below.
SENCO must-reads
Q4 - What are your must reads for SENCos, new or experienced? #sencochat

— SENCO Chat (@sencochat) September 4, 2018
The discussion about SENCO 'must-reads' was particularly interesting, and below I've attempted to compile some of the suggestions in a handy top-ten list.
The SENCO Survival Guide: The nuts and bolts of everything you need to know (Sylvia Edwards)
A really handy book with practical ideas and solutions regarding the SENCO role, the SEND cycle, provision mapping, working with families and much more.
Great Expectations: Leading an Effective SEND Strategy in School (David Bartram)
David Bartram (@DavidBartram) has collated a fantastic series of essays on a whole-school approach to SEND leadership, with each author highlighting the most important things they do in their day-to-day job.
The Changing Face of Special Educational Needs: Impact and implications for SENCOs and their schools (Alison Ekins)
Though a few years old, this book hasn't lost its charm. It's packed full of activities, case studies and points for reflection, many of which will still be valuable for colleagues today.
The Perfect SENCO (Natalie Packer)
This pocket-sized guide by Natalie Packer (@NataliePacker) is a fantastic source of support for SENCOs, including simple checklists and tips for implementing a whole-school approach.
The SENCo Handbook (Elizabeth Crowne, Carol Frankl and Liz Gerschel)
The practical approaches to the SENCO role and responsibilities, along with a perceptive analysis of issues facing schools, early years settings and colleges, make this an excellent handbook for busy colleagues.
SEND for Classroom Teachers (Gareth D Morewood)
Designed to be an 'off-the-shelf' CPD resource, this publication of mine could potentially be a life-saver if you are new to the role and looking for adaptable training materials.
Successful classroom partnerships (Gareth D Morewood)
This pack contains everything you need to maximise the impact of teaching assistants on learning outcomes. The materials included are varied, comprehensive and thoroughly grounded in evidence and existing practice.
Approach It, Map It, Manage It: The Graduated Response, Provision Mapping and Management (Abigail Hawkins)
Though I am yet to read it myself, this new title comes highly recommended. Approach it, Map it, Manage it takes the reader through each stage of the graduated approach, neatly integrating provision mapping and management.
When the Adults Change, Everything Changes: Seismic shifts in school behaviour (Paul Dix)
The fantastic Paul Dix (@pauldixtweets) upends the debate on behaviour management in schools and offers effective tips and strategies that serve to end the search for change in children and turn the focus back on the adults.
Understanding How We Learn: A Visual Guide (Yana Weinstein, Megan Sumeracki and Oliver Caviglioli)
This is my newest edition to my educational library; developed by @AceThatTest with illustrations by Oliver Caviglioli (@olicav) this is a much needed new look at how learning work. Looking closely at evidence-based education and the science of learning; the basics of human cognitive processes; strategies for effective learning and giving tips for students, teachers, and parents, this is a must for modern educators.
Working with families
Q7 - What are your top tips and advice on working with parents, particularly if they are reluctant to engage? #sencochat

— SENCO Chat (@sencochat) September 4, 2018
The final point I'm going to highlight in this blog post is about the importance of co-production and working with families. I've written so much on this topic (and shared others' thoughts) over the last few years, but for ease of reference I've attempted to collate a few important links and add some further reading to the end of this post.
First up, some great first-hand advice for SENCOs on how to achieve positive joint working with families, from the ever-brilliant Claire Ryan (@Claire_Ryan12).
Honestly all the way! If you don't know something, tell them and work together to find out.
Look for creative ways to communicate, especially if CYP use school transport.
Encourage partnership because joint working creates incredible solutions.
Please don't use 'Mum' when referring to us!
Don't assume parents are 'reluctant to engage'. Sometimes it's exhaustion, lack of options to communicate, bad past experiences etc.
Ask parents what the best way is to communicate with them. Some might not be appropriate, but one might!
Allow fresh starts and form your own impressions.
You could also take a look at the following blog posts:
Keeping parent and carer confidence high on our agendas
Why is co-production so powerful? Learning from research
There were many other questions and powerful discussions, but I've tried to give a flavour of the key messages for SENCO colleagues at the start of the new academic year and link to things in one place.  If you have time, or can arrange your week accordingly, I'd strongly suggest joining the regular Tuesday Twitter chat at 7.00pm.
Over the last academic year, I became even more acutely aware of the need for strong working partnerships, both in school and with school. A good example of this partnership in practice was the template I produced with Claire to facilitate responses to the national SEND Inquiry. Working well with other professionals and families is essential in the current climate; we constantly have to evolve and revise how we do things as the educational landscape continues to change.
I think that sharing resources, information and opening debate and honest communication is going to be the lifeline many of us rely on as the year progresses. To this end, I am looking forward to more #sencochat and a new way of supporting our work during these increasingly challenging times.
Further reading
All publications are available via Gareth's website
Morewood, G. D. (2017) Give your parents more input. Teach Primary Magazine: Helping to support every SENCo
Morewood, G. D. (2014) SEND Reform: a SENCo Perspective. Assessment and Development Matters, published by the BPS Psychological Testing Centre, Vol. 6, No 4, Winter 2014
Morewood, G. D., & Bond, C. (2012) Understanding parental confidence in an inclusive high school: a pilot survey. Support for Learning, Vol. 27 No.2, p.53-58, Wiley-Blackwell Publishing.
Morewood, G. D. (2011) The Developing role of the SENCo During Times of Great Change. A Personal Perspective. Assessment and Development Matters, published by the BPS Psychological Testing Centre, Vol. 3, No 4, Winter 2011.
Morewood, G. D. (2009) Making Optimum Use of SENCo Time. Optimus Publishing: Curriculum Management Update, 95: 7-10.
Additional materials