New FE access policy is a clause for concern
With the 'Baker clause' now in effect, secondary schools are obliged to open their doors to technical education providers. But are they meeting this new requirement?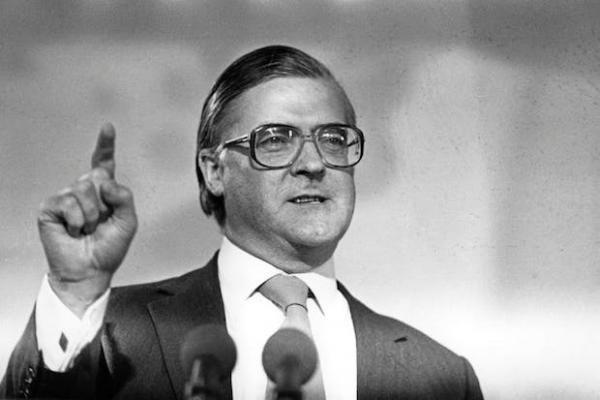 Former education secretary Kenneth Baker addresses the 1987 Conservative Party conference in Brighton. Picture credit: Evening Standard/Getty Images
Okay class, now, put up your hand if you know what education law Kenneth Baker is associated with.
Asking this question twenty-five years ago would probably have elicited references to 'Baker days' or, if you were lucky, to the 1989 Education Act.
Ten years ago, it would probably have led to shrugged shoulders and either 'dunno', or 'who?' Unfortunately, asking the question today might elicit the same response.
Yet the so-called 'Baker clause', which came into effect in January, marks an important change to the way that schools are obliged to cooperate with FE providers.
Background
Kenneth (now Lord) Baker, served as education secretary under Margaret Thatcher and brought forward the Great Education Reform Bill, piloted by his predecessor Sir Keith Joseph. He entered the Lords at the end of the Major government, in 1997.
Since then he has maintained his interest in education as a co-founder of the Baker Dearing Trust, set up to promote university technical colleges (UTCs), and chair of the Edge Foundation.
Edge, in its own words, 'believes that high quality technical and professional learning should be a key part of a coherent, unified and holistic education system to support social mobility and enable all young people to fulfil their potential.'
Support and hostility
With this background it is not surprising that, during the passage of the government's Technical and Further Education Bill, Lord Baker, in partnership with former Labour education secretary Estelle (now Baroness) Morris, secured a major concession, obliging all secondary schools to give FE providers access to their students.
Hitherto, driven by a system that encourages schools to point their students towards academic subject, many have resisted approaches by FE providers promoting more vocational courses. According to the peer, he expects the legislation to be 'met with great hostility in every school in the country'.
There was cross-party support for the proposal, which significantly strengthens the careers requirements on schools. Labour's Lord Adonis and the Liberal Democrat education spokesperson, Lord Storey both added their support and, in a surprise move, Lord Nash, still then the parliamentary under-secretary of state for schools, welcomed the amendment.
Lord Nash said, 'I agree that it would strengthen the bill by promoting technical education and apprenticeship opportunities more effectively, so that young people can make more informed and confident choices at important transition points.'
Broader horizons
The effect of the Baker clause will be to widen students' knowledge of education and training programmes, and offer alternatives that may not have been presented to them in the expectation that they would continue in to the sixth form. In these competitive and financially stringent times, it is easy to see why Lord Baker expects schools to resist.
However, this is now law. Schools must allow vocational training and apprenticeship providers to advertise their courses to pupils aged 13-18. This may also benefit the remaining UTCs, which face problems recruiting at 14. FE providers will be able to advertise:
studio schools, UTCs and FE colleges (at age 14)
FE colleges, sixth form colleges, work-based training and apprenticeships (at age 16)
apprenticeships and university degrees (at age 18).
The legislation requires every school to give training providers access to every pupil between years 8 and 13, so they can find out about non-academic routes. The Department for Education's statutory guidance makes clear that schools should publish a policy statement explaining:
how they arrange provider access
which premises or facilities will be used
any reasons they may have for granting or refusing requests for access.
This policy should be made available on the school website.
Distinctly lacking
However, it seems that there is a degree of lag between the requirement and schools' compliance with it. The education press has already reported at length the failure of some multi-academy trusts (MATs) to comply, with only two out of ten trusts investigated having the policy finalised and available on their websites.
It would also appear that many individual schools are failing to keep the law. As I write this, I have just explored the websites of all my local secondary schools and MATs and, while each proudly promotes its sixth form, the Baker Clause is distinctly lacking. If it is available, it must be pretty well hidden.
Schools deliberately delaying their inclusion of the Baker clause should take care
Every school leader knows that there is a list of statutory information that must be available on their website. It might be that, as this DfE list is updated, schools will begin to include the Baker Clause in that list.
However, right now, it would seem that more schools may be in breach of legislation than are complying. This legislation applies to all maintained schools and academies, including special schools and it is the responsibility of governing boards to oversee its implementation.
Lord Baker has expressed his lack of surprise at this tardiness. He told FE Week, 'We know that many schools will try to resist this, but it's very important that it should be implemented more rigorously.'
He will be taking the matter up with Lord Agnew, John Nash's replacement as academies minister while, in the Commons, former skills minister, Robert Halfon, who is now chair of the Education Select Committee, has also indicated that he will be taking up the case with Lord Agnew.
Don't delay
Schools deliberately delaying their inclusion of the Baker clause should take care. The government's technical notes on the act state that the secretary of state has a regulation-making power to make further provision if sufficient numbers of schools fail to comply with the duty.
Governors or school leaders wishing to find out more about their responsibilities under the Baker clause are advised to read the DfE's updated Statutory guidance for schools on providing careers guidance.
Now in his eighties, Lord Kenneth Baker's may be remembered for more than the training days that once bore his name.
Further reading
Schools: you must tell pupils about apprenticeships! (Schools Week)
More from Optimus
How to write a school policy: 9 top tips