It's time to supervise the SENCO
For other professionals, positive supervision is already a component of high quality work. Why not develop something similar for SENCOs?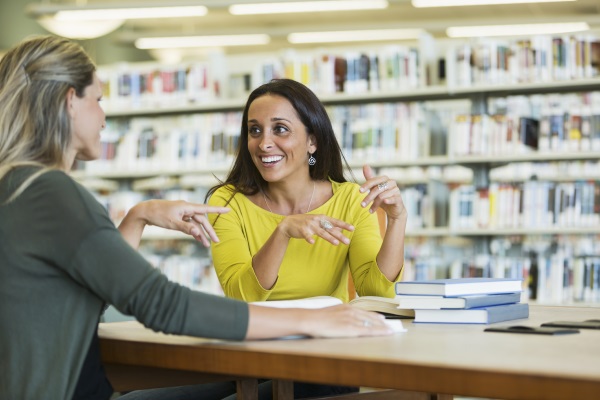 This week has been a tough one. As a SENCO, it can happen: external and internal demands, the end of our school's financial year, planning for next steps and the 'official end' of the 2014 SEND reforms implementation period.
At times like these we are at our most vulnerable, personally and professionally. We must remember that our own wellbeing is always important.
Prompted by a long and challenging couple of days, and a few related discussions on Twitter around teacher supervision (initiated by Dr Tim O'Brien), I have given more thought to the SENCO's need for personal and professional support, and why this is more important now than ever before.
Why is supervision important?
I have previously written about our speech and language therapy and educational psychology provision, both of which were supervised extensively. Research suggests that inter-professional supervision can be very positive, and certainly from our own experience it can enhance the outcomes of joint-working within a multi-disciplinary team.
Supervision is the formal arrangement that enables a SLT or EP to discuss their work on a regular basis with someone who has significant experience and qualification. It's an essential component of good quality work, supports the professional development of the individual therapist/psychologist, mitigates risk and helps to support expectations regarding outcomes for individual cases and families as well as helping the collaborative development of proposed work schemes.
While supervision is well established in the work of SLTs and EPs, it doesn't seem to be something we've discussed (until now) as a possibility for SENCOs and teachers; and with the increasingly pressurised educational environment, it seems a vital time to pick up these discussions.
Considering the term 'supervision' in a broad sense, there appear to be a wide variety of terms attached to the practice of supervision in health and social care. For the purposes of this post, I will consider the following two types of supervision.
Managerial supervision: to refer to 'line management' supervision.
Professional supervision: to refer to 'clinical', 'personal' and 'practice' supervision.
Managerial supervision
Managerial supervision can be described as overseeing and managing employees in the workplace. Many schools have 'line management' systems in place, but I suspect these are often part of a compliance model, linked to external measures of success (such as academic performance and attendance).
While supervisory management may already exist in schools, I wonder how often this is reviewed, and how much training line managers actually receive in order to undertake this foremost responsibility.
Professional supervision
Professional supervision is a formal process whereby supervisors enable practitioners to improve their knowledge and skills within their roles. It is often mandated by professional bodies. The practitioner in this case is usually responsible for their own practice, and works to improve service users' outcomes and safety.
Professional supervision is framed upon being positive and enabling. It should give the opportunity for employees and supervisors to work together in reflecting on their practice. The employee can review and evaluate their work, learning through a continuing professional discourse.
The case for SENCO supervision
In order to be most effective, the SENCO should have the support of the headteacher and the senior management of their school. Colleagues who don't receive this support are often caught in a difficult situation, and even though the SENCO role has clear statutory requirements some colleagues need more than simple line management meetings as part of a prescribed agenda of compliance.
Gibbs' model of supervision for psychologists in training is a useful starting point, especially with regard to providing a safe space for authentic learning and critical supervision.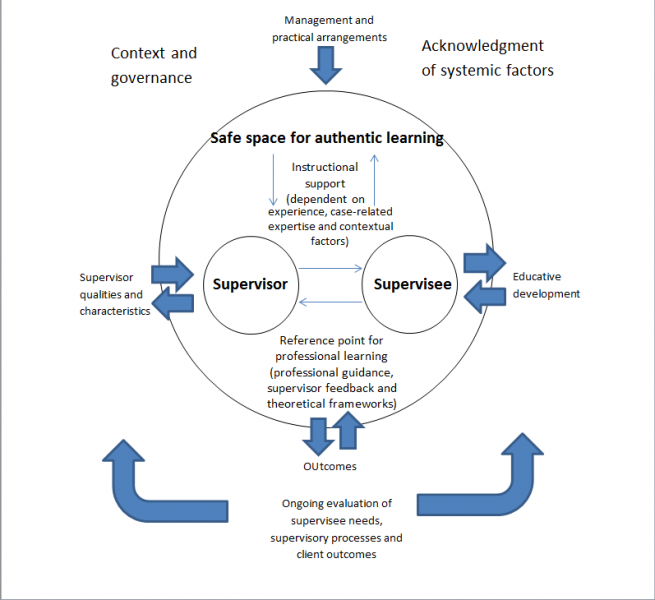 Gibbs et al. (2016) Supervision for school psychologists in training: developing a framework from empirical findings. School Psychology International, 37(4), 410-431.
From management to supervision
Speaking personally, there needs to be a minimum expectation of how the SENCO role is overseen. This should be a basic set of standards for supervision (more than existing line management arrangements), reflecting the significance and complexity of the role.
According to Jackson (2002), a space to process emotions in relation to work [of teachers] is entirely necessary, for 'It is this space and process that can offer relief and protection from the persecutory states of mind that result from the relentless challenges [of their pupils].'
Left unprocessed, Jackson suggests that teachers may then 'react' to rather than 'reflect', and I see no reason to suggest that this wouldn't be the same for SENCOs as well.  We need to start developing a supervisory model that allows for a more reflective approach to the role.
The evolution of management into supervision should allow a SENCO to:
negotiate practical arrangements as part of a supportive approach
understand their role in the wider context of education systems and professional governance, especially in relation to the law
have a positive space for professional learning where they can experience work related instructional support, emotional support with the demands of the role, review practice and apply strategies and guidance within their work
allow for the development of leadership theories and personal characteristics
develop a culture of positive feedback.
It is now time to significantly rethink the line management we have, and how we might transform it into more appropriate supervision.  What this means in reality may differ from school to school, but some guiding principles like the ones outlined above should be our first step.
Have a discussion with your headteacher or governors, and start thinking about what the outcomes of supervision would be for you. I know I will be giving this further thought, so watch this space!
The SENCO forum is an electronic mailing list for SENCOs and other professionals involved in the education of young people with SEND. Now operating for over two decades, it's a great space for discussing issues and seeking practical advice from colleagues – do get involved!
References
Gibbs et al. (2016) Supervision for school psychologists in training: developing a framework from empirical findings. School Psychology International, 37(4), 410-431.
Hulusi, H. M. & Maggs, P. (2015) Containing the containers: Work Discussion Group supervision for teachers – a psychodynamic approach. Educational & Child Psychology Vol. 32 No. 3, The British Psychological Society.
Jackson, E. (2002). Mental health in schools – what about the staff? Thinking about the impact of work discussion groups in school settings. Journal of Child Psychotherapy, 28(2), 129–146.
Further reading
More from Optimus
Time to rethink the 'effective SENCO'