From thinking all was impossible to becoming a TA (and now teacher!)
Volunteering as a teaching assistant at Priestnall School gave Marta Pelejero precious insight into the fundamentals of teaching. She describes her journey so far.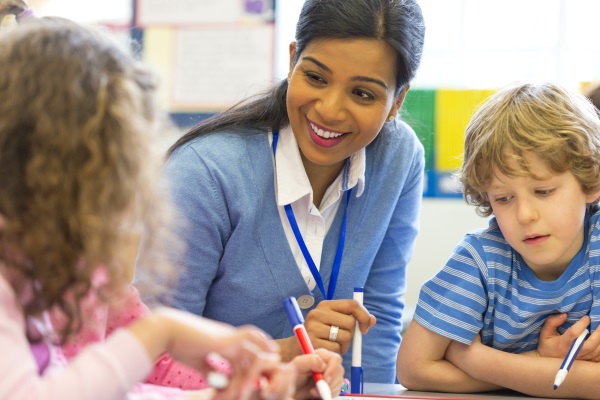 How many people know their vocation? How many know what they really want to do with their life? In this constantly changing world it is very difficult to find your passion, your best abilities, what you are good at, what you really enjoy doing. I have been fortunate to have had a great opportunity to peruse mine and this is my story.
For that reason, when you find that vocation, it does not matter how old you are, trust me. It is such an amazing feeling. Now there is nothing to stop you. You just need to find the way to achieve it and that's what I did when I realised I wanted to be a maths teacher.
A new chapter
At the age of 28 I took the risk of moving to the UK. I could speak English semi-fluently and was eager to begin a new chapter in my life. Back in Spain, I had been very unhappy with my professional life, hence why I decided to undertake a life-changing decision and move abroad. Fortunately, this gave me the opportunity to be brave and pursue my dreams.
Who said the journey was going to be easy? For someone with no previous knowledge and basically new to the UK, a PGCE seemed to be the only way to get into teaching. It was not an easy task to find the most reliable information and suitable route; at that time, I didn't have a network of colleagues to advise me.
After many hours spent trying to find out how to apply for the PGCE, I discovered that my Spanish engineering degree was equivalent to an English Standard Bachelor degree, which meant I couldn't apply. But rather than accept defeat, I took this as a wake-up call.
Starting small
I accepted that I was not in a position to take such a big leap right away. That was when I decided I should become more familiar with the English educational system, improve my proficiency in English and start with the basics. I knew I would find my own way, just through a different route.
For someone with no previous knowledge and basically new to the UK, a PGCE seemed to be the only way to get into teaching
I continued my research, and between breakfast club and after-school vacancies I first discovered the amazing teaching assistant role. The job description set out what the TA would be doing: working one-to-one or with small groups of pupils, supporting pupils with learning difficulties or disabilities, or supporting pupils with English as a second language. It required:
good organisation skills
flexibility
creativity
patience
a sense of humour
an ability to build good working relationships with both pupils and adults.
I couldn't have felt more excited. I genuinely thought that the job description was describing me! The role looked like the perfect opportunity to learn more about education and students' needs, and to develop my confidence.
I applied for approximately 50 TA jobs but received very few responses. After getting only two interviews, without any luck, I asked both schools for honest feedback. They told me that I didn't have enough experience working with children in English schools and suggested that I look for schools at which I could volunteer for a few hours each week.
Finally, a stroke of luck! I wrote to Priestnall School and asked if I could volunteer. Gareth Morewood, the director of curriculum support was keen to meet and discuss what would be mutually beneficial.
From volunteer to TA
Not long after my meeting with Gareth, I started volunteering at Priestnall for a couple of days each week. Everything about the role surpassed my expectations. I worked in the curriculum support faculty, alongside professionals who really saw the potential I had. Not only did they support me in getting to grips with the role, but also in my effort to understand how the English education system works.
At that time, I had a part-time job to get by, but those unpaid hours in school gave me more satisfaction than any payslip could.
I worked alongside professionals who really saw the potential I had
A few months (and a lot of hard work) later, I was fortunate enough to be interviewed for and offered a full-time teaching assistant position at the school. I was overjoyed that my perseverance had paid off, and now I have the opportunity to dedicate my whole working week to the pursuit of my dream.
My work has involved supporting students with ADHD, dyslexia, visual impairments, cerebral palsy, autism, anxiety and challenging behaviour. It is striking just how diverse the students in our care can be and what skills and knowledge we need in order to help them thrive.
Learning as I teach
More recently, I have combined my teaching assistant job with a Spanish master's degree in education. I am in the privileged position of being able to learn as I teach, observing different teaching techniques at the same time I was supporting the class.
All these experiences will help prepare me for becoming a teacher. I will be able to identify the pupil's needs and their perspectives, which will, I am certain, make my future teaching more effective.
I am in the privileged position of being able to learn as I teach
I completed my master's degree this year and now have the option to apply for a PGCE. With the support of colleagues at Priestnall, and with the variety of routes into teaching available, I have ahead of me a range of possibilities I could never have imagined possible a few years ago.
Now that I have my Spanish teaching qualification I will have the opportunity, in the new term, to teach two small maths groups as part of the supportive curriculum at Priestnall. I will deliver these 10 lessons under the supervision of experienced colleagues as I look to build on the opportunities I have had so far.
Onwards and upwards
Whatever happens next (and further updates will follow in this blog), there's one thing of which I'm certain: working for a time as a teaching assistant can offer precious insight into the functioning of a school and its structure, not to mention the needs of the students you aspire to teach. I earnestly believe that others will benefit from taking this route into teaching as well.
I am very proud of everything I have achieved, and I also think that in a certain way I am more prepared than ever for the opportunities ahead. Now for the summer break, time at home in Spain and preparation for the next stage of my career.
Advice to future teachers
If you are thinking about getting into teaching, remember that it's never too late! Starting as a TA is a great route because:
you will learn from a wide range of teachers and experience different teaching techiques
you will develop a robust understanding of your future students' needs
it will build your confidence and experience in the education sector.
This has been an amazing journey so far, and there's plenty more to come!
More from Optimus
Days like this: how I became a teaching assistant