From special measures to outstanding: the power of an arts-based curriculum
When Naveed Idrees became headteacher at Feversham Primary Academy, pupils were disengaged and staff morale was low. Naveed explains how an arts-based curriculum has transformed his school.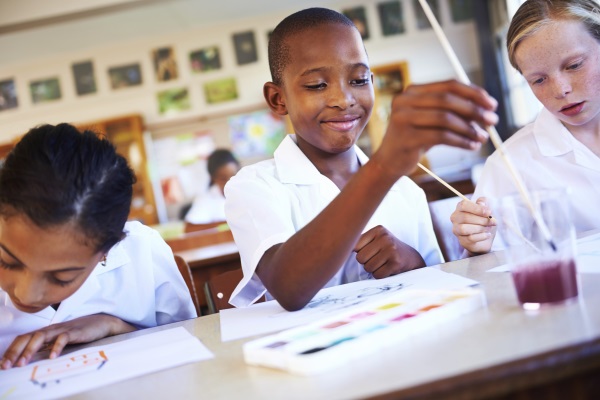 What state was your school in when you first became appointed as headteacher?
When I became headteacher in 2013, the school had been in special measures for about 20 years. Although the school was receiving a lot of support from the LA through consultants, the whole-school morale was low, our pupils were passive learners, staff absence was high and we were finding it incredibly hard to recruit.
Our school is situated in a very deprived area with lots of crime and low education rates, and children were starting school with little or no English at all. Both the local and school community were completely disengaged.
What made you realise that the curriculum needed to change?
I think the initial idea was that there is no point in doing more of the same. Neither our pupils and staff were benefiting – there had to be a better way.
I then asked two basic questions to our staff:
What does it mean to be a child?
Are we meeting those needs today?
Inadvertently, our teachers were delivering a curriculum that was very mechanical. We were teaching children like robots, only filling their minds with pure English and maths.
The problem with this approach is that it stops children from having any life experiences. They're unable to connect their learning to anything outside the classroom.
Through adopting a surface level approach, our children were scraping through tests, but they had no real understanding or love of learning.
Our teachers were delivering a curriculum that was very mechanical
To address this core issue, we needed to build our pupils' capacity to learn first.
We started to look at art, music, drama and culture in particular. This actually happened by chance as we had a supply teacher with a musical background who started slowly by delivering music lessons one afternoon a week.
We then looked into the research. Music develops:
auditory capacity
pattern spotting
language
memory
motivation.
Music enables children to become better learners, so now music and other arts-based subjects form a core part of our curriculum. In these subjects, children are using the skills that they've picked up through English and maths to master them. They weren't using these skills before.
Focusing on an arts-based curriculum has had such a huge impact on our pupils' wider learning, and we're now in the top one per cent of the country for pupil progress.
Did you face any challenges along the way?
When a school isn't doing well, people tend to think that the way forward is to focus even more on maths and English. This sends out a message that non-core subjects aren't important, and takes out the fun of learning for pupils. 
When I became headteacher, the children were getting boosters in English and maths before lessons started, during lunch, and when school finished. They were boosted out!
Our children were scraping through tests, but they had no real understanding or love of learning
It was also drilled into the mindset of our staff that the curriculum had to be taught in a mechanical way, making it hard for them to come up with their own ideas.
We couldn't expect our staff to deliver non-core subjects in great depth, so we decided to stop consultants coming in and deploy specialists in the arts-based subjects, and now teachers have weekly CPD training in music, art and drama.
In regards to funding, we recieve the same as most schools, but rather than employing lots of TAs, we employ specialists to even out our budget.
Do you have any advice for other schools thinking about changing their curriculum?
There's a myth that if schools focus on arts and culture that results will go down – that's not true.
Research shows that focusing on the arts subjects increases children's ability to learn, and their cognitive ability increases. Focusing on arts will actually raise a school's standards.
We're now in the top one percent of the country for pupil progress
A lot of schools won't follow this approach because they think it's too risky.
Ultimately, the main barrier is the beliefs and values of the SLT. If you're brave and truly believe that children need a holistic education, you will find a way. 
Excellence in Pupil Development Award (EPDA)
Want to put pupils' personal development at the heart of your school?
The EPDA offers a framework to evaluate and enrich your pastoral curriculum, giving your school the opportunity to set high expectations for pupil behaviour, promote positive attitudes towards learning and the wider community and engage with external organisations to help raise pupils' aspirations for their behaviour.
Find out more at oego.co/OE-EPDA
More from the Optimus Blog