'One happy family': rethinking assessment and feedback
The formative assessment of pupils with SEND has always been a central issue at Holy Family School. A disappointing Ofsted judgement provided a catalyst for change.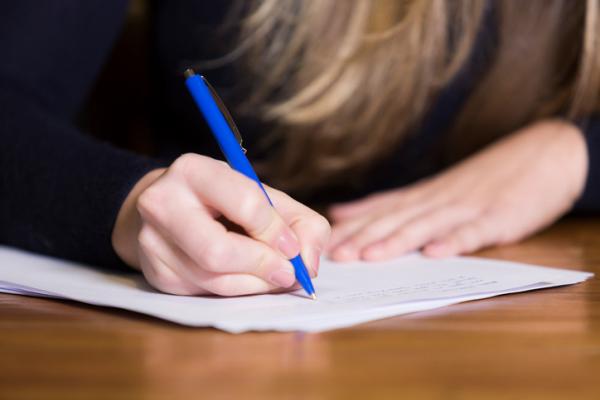 'Setting pupils ambitious and yet realistic targets based on a clear and accurate understanding of what they can and need to do to improve.'
Ofsted's target for the school
The results that came in August showed a small but significant improvement in the progress of our pupils with SEND. It was a boost to our confidence; a sign that the changes we had made were finally bearing fruit.
In early September, four of our middle and senior leaders met to discuss how the school could work towards the target Ofsted had set. They very quickly settled on assessment as a starting point.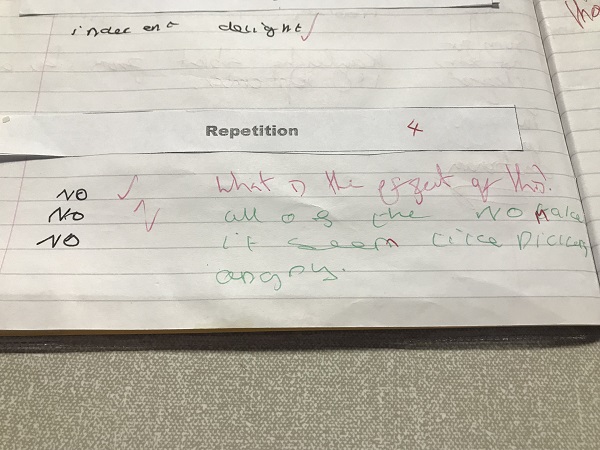 Photo A
Writing for the Chartered College of Teaching, Nikki Booth, head of modern foreign languages and music at Wolgarston High School, argued that formative assessment hasn't worked in schools for two reasons; firstly, because it should actually be 'responsive teaching'; secondly, because the onus on schools to give grades encourages the majority of students to look at and compare their scores while ignoring the comments.
The disappointing Ofsted judgement was a possible sign that we needed to find new ways to engage our pupils with SEND, and put our own practice under the microscope.
Efficient front crawl
Until recently, I had been hesitant to use summative scores and grades. I agreed with Markov that marking should be a conversation between two writers.
Through the power of metacognitive techniques, I have managed to keep to that principle while making marking more meaningful at the same time.
Photo A illustrates a typical 'green pen' response, while photos B and C are examples of metacognition in action. It is clear that the DEAP technique helps pupils to think more clearly about the decisions they make.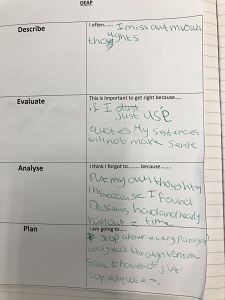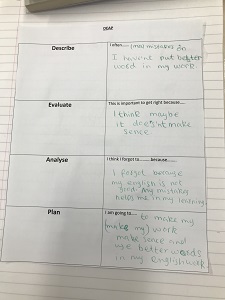 Photo B                                                        Photo C
Expanding the range of language in written feedback to, and lesson outcomes for students with SEND will be another priority.
Last Sunday I took my young baby to a 'turtle tots' class at our local secondary school's swimming pool, and one of the learning outcomes written on the board was, 'To understand the most efficient technique for front crawl.'
Too often teachers will use words like 'efficient' without checking that the lower reading-age pupils will understand what they actually mean.
The full picture
Our designated specialist provision for autism has provided consistently for the 17 pupils in our care, and formative assessment has played a significant role in this.
Photos D and E show stickers that were made after we started to look closely at how teachers assessed pupil progress. Sometimes the teacher's assessment was more favourable than our own, and we sought to find out why.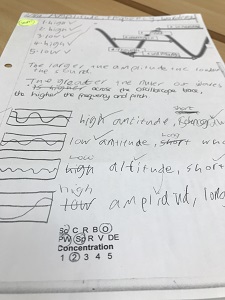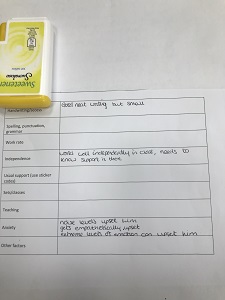 Photo D                                                       Photo E
When marking books at home, perhaps teachers did not acknowledge the amount of support a pupil had in completing their work. To confirm this, our assistant headteacher – in full knowledge of the support pupils had been given – was shown the work and asked if he would have given it the same grade. 
The stickers display the type of support a pupil has received and how well they have concentrated. This was to make clear to the teacher, and anyone else looking at the book, why a pupil had not finished a piece of work, why they needed more support or why they had not met their learning outcomes.
Codes on stickers
| | | | |
| --- | --- | --- | --- |
| Sc – Scribe | B – Breaking down the task | Sp – Spellings | DE – Differentiatied explanation |
| C – Comprehension | O – Organisation | R – Research |   |
| R – Reading | PW – Planning work | V – Vocabulary |   |
Concentration
1 = Poor
2 = Sometimes on task
3 = Mainly on task
4 = Good
5 = Excellent
Accrediting inclusion
The SEND Inclusion Award provides a framework for recognising outstanding SEND provision in schools, and identifying areas that have high or little impact on your pupils' outcomes.