How to improve self-care
With a growing number of educators struggling to maintain a work life balance, Kelly Hannaghan shares her ideas around teaching self-care techniques to increase productivity and emotional harmony.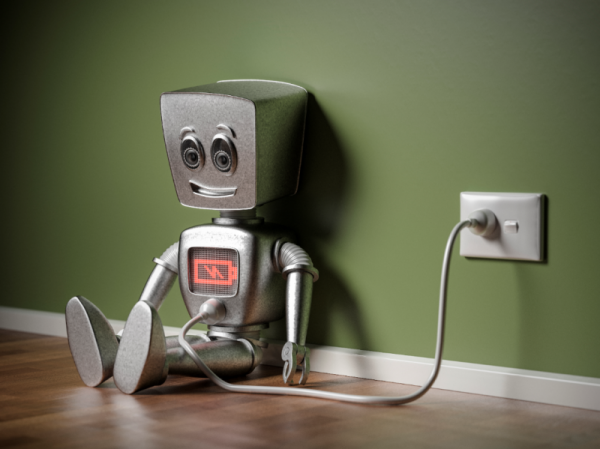 I appreciate that educators have one of the most stressful yet rewarding careers, and as such you could probably do with a few hints and tips for looking after yourself – particularly in the current circumstances we find ourselves in.
When your working life is dedicated to nurturing young minds, it can be easy to forget about looking after your own wellbeing. Here I share my reasons why self-care is so important and offer some life enhancing tips for educators.
You wouldn't leave home without charging your phone, so why do we expect to function at our best when running on empty?
Why does self-care matter?
The nature of your work as a teacher means that your body and mind are at the forefront of what you do. The life of a teacher can be a struggle at times, and unfortunately, when you're not feeling your best sooner or later it will show in your teaching.
Think of self-care as charging your battery. You wouldn't leave home without charging your phone, so why do we expect to function at our best when running on empty?
Who's responsible for staff wellbeing?
It is my belief that the responsibility for staff wellbeing should be shared between the employer and the employee. Getting the balance right is vital to embedding a healthy school culture. This could be a mix of school leaders offering supportive intervention and an employee's commitment of a daily self-care routine.
Based on my experience as a wellbeing lead, I'd say it's important to remember that doing too much and spoon-feeding people can disempower staff and create an unhealthy reliability on rescuing behaviour.
Building helpful habits
A regular and unhelpful behaviour I see is people overthinking, procrastinating and striving to get their 'to do' lists completed.
Sadly, we never achieve this feeling of 'I'm done', because so often the quicker we work through tasks the more frequently tasks are added to our lists.
Learn to say no effectively; being clear is being kind
A helpful way of managing this response is to draw on Parkinson's Law, which is based on the concept that work expands to fill the time available for its completion. If we set a goal to get this work completed quicker, we usually achieve this.
Don't over-commit to fulfilling tasks. Learn to say no effectively; being clear is being kind.
Change makers
In my setting, we're helping staff by teaching practices for self-care, for example using reflective tools such as the circle of self-care.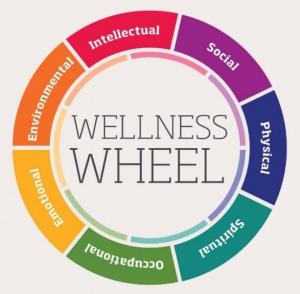 This helps individuals to identify imbalances within their lives. I recently used this method with a colleague, who was then able to recognise that they were spending far too much time thinking and worrying about work. They were then able to reapportion their time, focusing more on connecting with family and reacquainting themselves with pleasurable hobbies.
Another powerful tool is collecting staff voice on what wellbeing means to them, as this can be very different for individuals.
To highlight needs it can be helpful to begin with the question: if you were attending a talk on wellbeing, what would you like this to be about? This may provide a window into people's wellbeing struggles: we need to start from where people are at.
Being your own wellbeing superhero
I try my best to nudge people into different patterns of behaviours to enhance their self-care process.  At times it can be a challenge to get through to people who simply feel too busy to listen and feel things can't change.
I introduced quick wellbeing wins and place these on our staff wellbeing noticeboard; sometimes a simple pause empowers change.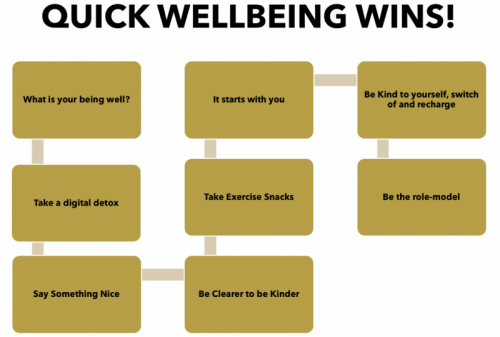 My top self-care tips
Make time for everyday wellbeing. It's the simple things that create habit changes; this could be going for a 10-minute walk after work or at lunchtime.
Eat well. Have breakfast and try to take a lunchbreak every day, no matter how short.
Connect with people. It is scientifically proven that spending time with others can increase our wellness.
Practice breathing activities. Slow and steady breathing can regulate the heart rate and slow down the amount of stress hormones being produced.
Spiritual wellbeing: take time out to meditate, connect with nature or even start journaling.
Physical wellbeing: ensure you are getting enough sleep; this is vital in our jobs as educators.
Workplace wellbeing: set work boundaries and explore ways to support effective time management.
Space: the simple act of organising your workspace can help the mind feel a lot clearer and add green plants to your work environment.
Most important is to know ourselves and know our limits. Work should only be a proportion of our being and should not take over all our life – we are more than our jobs.
For me it's been helpful to work with a professional coach in this area and gain clarity around my goals. I'd say that my work productivity has now increased, while my work-life balance is better.
In the next weeks and months we'll be tackling unprecedented challenges as educators. Connect with me on Twitter to share what you're doing for your self-care at this time.
Helpful resources