Getting to the heart of professional learning and literacy
'New teachers are starting a journey, not being prepared, glazed and kiln baked by CPD to be career ready.'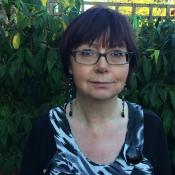 Diane Leedham, English, Literacy and EAL teacher and advisor, and all-round voice of sense and reason on edu-twitter, has clear ideas about helping children to learn and thrive. I caught up with her for a chat about getting CPD right amidst the pressures facing teachers now.
Elizabeth Holmes: It seems these are difficult times for teachers. Dissatisfaction and lack of professional learning opportunities are taking their toll.
Diane Leedham: Yes, it does seem that there's a whole generation of teachers who feel they have been let down. And too often the CPD they are offered seems inadequate for their needs.
EH: Too many twilights?!
DL: When I'm asked to run "a twilight" for the whole school, particularly for EAL when that's the only input available on the topic, it makes me sigh. It's almost impossible to be relevant for everyone and keep the whole staff of a school on board. It's far better to be based in a school for a period of time so that you can work on specific issues. Working with individuals and small groups of people, team teaching, team planning, helping setting priorities and other such collegiate collaborations can really help teachers to develop.
EH: So when it comes to professional learning with regard to literacy and EAL, what's going to help new teachers in particular?
DL: It's important not to overload them with too much too soon. A few core research informed theories and strategies with practical examples from the classroom work well, combined with teacher-initiated questions and next steps enquiries. This would be a much better approach. New teachers are starting a journey, not being prepared, glazed and kiln baked by CPD to be career ready.
EH: That is such an important point. This is not about identical teachers rolling off a production line.
DL: It is important to begin to develop core knowledge, for example about second language acquisition, so that teachers have a valid professional lens for observing and evaluating practice - whether their own or others. However, zone of proximal development applies to adults as much as to children. Individual teachers need to make connections with their prior experiences and go from there.
EH: Absolutely. And professional learning for the context in which teachers actually work is also key.
DL: Yes. We need to focus on individual children and the complexity of individual children's needs for example through shadowing, case studies and so on. Teachers coming to schools in their twenties are often a long way away emotionally and psychologically from their childhood and teenage years. Parent career changers perhaps less so – I have certainly learned more about pupils from having my own children than from my memories of being at school. 
Actually I think all teachers need regular opportunities to do pupil shadowing and shift their perspective. This is particularly important for EAL in order for people to understand multilingual experience.
EH: Support along the way is crucial, isn't it?
DL: Partnerships and mentoring (including time for the mentor!) are so important. Teachers need a supported professional framework arrangement over time to raise questions, see how things go, report back, reframe and rejig so that development spirals and bunny hops from lesson to lesson. Time frames can be negotiated and renegotiated according to context and need. 
Partnership planning over time is particularly good I think. It's very motivating for a new teacher with a fresh approach to suggest something and have the more experienced teacher say 'yes, I love that - I'll do what you do!' That's a real partnership but does mean the mentor needs coaching too. I think this aspect is often overlooked.
Of course the experienced teacher should be modelling and coaching successful practice, hopefully drawing attention to its evidence base too, but some partnerships turn into 'let's plan how you can pretend to be me', which is clearly not so constructive.
EH: Finally, about Twitter. Is it a useful tool for CPD?
DL: Yes, definitely, providing you curate your own timeline. You don't have to persevere with individuals if they seem deliberately disruptive and draining, but collaboration and debate in the spirit of learning is very positive. Not to mention the jokes!
Follow Diane on Twitter: @DiLeed
Want to hear more from Diane?
Diane Leedham is a regular contributor to our Knowledge Centre. See a full listing of her resources and webinars.
Further reading and resources
Using a range of activities to make CPD count
NQTs: tips to help you get off to a great start
Time saving differentiation strategies
Great teaching, great learning: supporting new teachers to develop their craft