SEND Provision - an interview with Gareth Morewood
Gareth Morewood discusses the health and wellbeing of SEND pupils and his thoughts on the upcoming SEND Provision conference.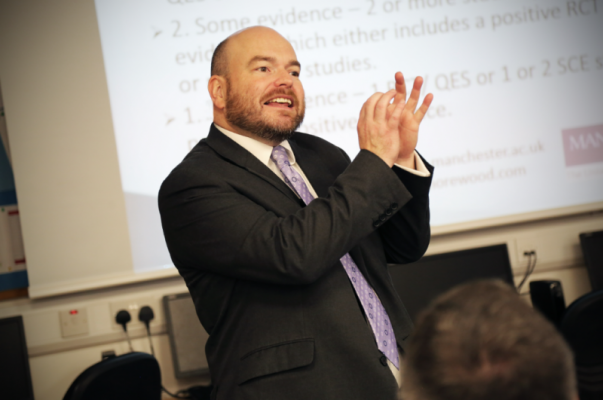 What are you looking forward to on the day of the SEND Provision conference?
Gareth: Firstly, it is an absolute delight to be asked to chair a live event again, there are always positive discussions at these conferences. 
There are great opportunities to meet people face to face, think more about your practice, and get that time to reflect and connect — things like that which I believe are essential, so I'm very much looking forward to that. 
I'm also looking forward to doing a few sessions on things that I haven't spoken about before to try and articulate some of the more recent stuff work, I have been involved with.
Sharing that with delegates will hopefully be beneficial. It is going to be nice to be at a proper event again. We could all argue that we have reached our limit of being online all the time, in a way.
There are different things that people might think are a priority in the short term, the medium term and the long term.
How can you ensure that teachers understand SEND needs and that those needs are met?
Gareth: Again, this is one of the key roles of the SENDCO job, and there are different terms people use, like quality first teaching, inclusive teaching, and learning, all these things. Other people in various places may have different views with different language.
In my 17 years of SENCO, that was an essential part of the job. 
We had a teaching and learning faculty that we worked closely with to ensure all that continuous professional development, training, discussions, ongoing reflection, and collaboration with colleagues was coherent and 'joined up.'  Bearing in mind that we know a lot more about what a good investment for learning is now than we did 25 years ago. 
That was really part of our ongoing continual professional development coaching and supporting with each other. So, the key for me is always about the idea that the core business of a school is teaching and learning. In the long and short of it, the more we understand what a good investment for all learners is, the better, and develop our systems and consistent routines from there.
That for me must be a central part of the whole school approach. It shouldn't be abdicated or left to individuals. Instead, it must be coordinated alongside your entire school's routines and structures. 
If you like that building that consistency, something I talked about in something I wrote a while ago. So, talking about constant consistency, how we develop positive routines that can be maintained. 
What is your favourite part of your job? 
Gareth: I have spent a lot of time employed in schools, which I thoroughly enjoyed. 
I combined that experience in the end, with working with families, researching, and supporting other schools in the UK and abroad. So, now I am able to do more work with families, other schools, and different settings, without being in a school myself.
There are pros and cons to everything. I guess now I have more flexibility and can do more long-term pieces of work.  Every time you visit a new school or a setting, you learn something new, and it's fantastic for me and hopefully useful for them as well. 
The most exciting thing now, particularly after the last few years, is getting into different settings. Places with different cultures and communities and working with different families collaboratively to improve outcomes for young people through joint working and co-production.
Can you give an example of how we can support the health and wellbeing of SEND learners?
I think we have got to make sure that whatever we do we consider the impact for young people, families, and staff.
Gareth: I would flip that around and say we want to support the health and wellbeing of all learners, and obviously, some of our young people are going to be more at risk than others, depending upon their journey to where they are at that time. 
But I think for me, and it comes back to one thing, you want to try and create a community, a place where young people (and families and staff) get that sense of belonging, so they feel part of the school community.. That is really important. 
So how do we do that? Of course, it depends on your journey and where you are. There are different things that people might think are a priority in the short term, the medium term and the long term. 
That comes back to the first point about some of the things I enjoy doing around strategic work with schools. But I think we have got to make sure that whatever we do we consider the impact for young people, families, and staff because if staff are stressed and overworked, they will be limited in what they can do.
Giving them that sense of belonging and safety is core for me,  and then work on the values and that sense of what they stand for and build things around that. 
This is about moving away from that medicalised approach, like just checking things off, into a more person-based approach of coaching, supervision, support, and collaboration.
The key to this is a colleague and good friend of mine, Doctor Damien Milton, who quoted the idea of personalisation, not normalisation. So, you have got to have structure to allow those individual approaches to be successful. And that is important. That's core to build that sense of belonging that make people feel valued as a person, as an individual, rather than just seen as a number or a name on a list.
SEND Provision - London
Join other leaders of SEND for a day full of high-quality presentations, networking and workshops.
Our SEND Provision conference brings you a programme packed full of valuable insights, tools and strategies at a time when the need for high quality provision has never been greater.