Building wellbeing connections across the globe
An opportunity to meet with fellow wellbeing leaders from Zhejiang deepens cultural understanding and confirms the importance of mental health education for children and young people everywhere.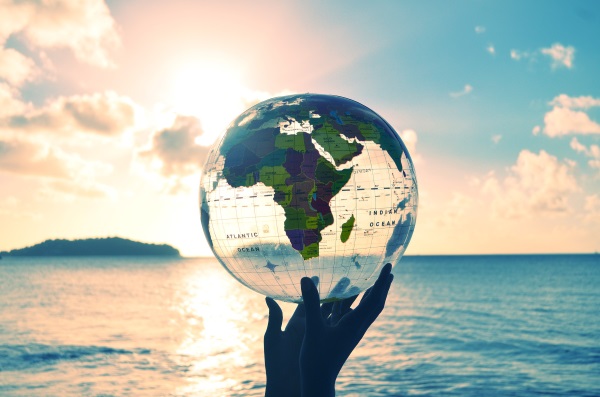 Earlier this term I wrote about the power of networking. My wellbeing work has brought me into contact with many different people, and I love building these connections and sharing my message around the importance of wellbeing in schools. One of the wonderful things that has arisen from my network has been the opportunity to connect worldwide with education professionals across the globe.
A Chinese connection
Recently I had the privilege of connecting with five mental health and wellbeing specialists from Zhejiang province, China. They were initially introduced to me via Paul Beashel at the Excellence First Enterprise Consultancy. Based in research and education institutes, they all have responsibilities for implementing policies and practice for mental health and wellbeing in schools within the province (which has a population of over 57 million). 
They were keen to learn about the theory and practice of mental health and wellbeing in the UK and wanted to see for themselves how we had successfully embedded this practice into our education system. A visit was arranged and the five specialists spent a day with us at Lessness Heath Primary School.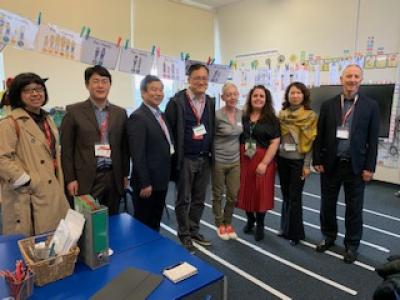 Kelly with visitors Wu Xianping, Pang Hongwei, Wei Xuan, Fei Weiqun, Cai Yingchun, Paul Beashel and Rachel Grant
A different education system?
My first impression was there are no significant differences between eastern and western education. After all, children go through basically the same stages of schooling whether they grow up in China or England.
China has a state-run system of public education, overseen by the Ministry of Education. Compulsory education includes six years of primary education, starting at age six or seven, and three years of junior secondary education (junior middle school) for ages 12 to 15. In terms of the relationships between students and teachers in China, teachers are highly respected by others and students are used to obeying the teachers.
Wellbeing threaded through every fabric
It was evident that our visitors quickly captured the essence of our positive school culture at Lessness Heath; they reported noticing this as soon as they arrived at the school gates to be greeted by pupils walking Lola, our school therapy dog.
The day started with a tour of the school environment where they were able to evidence that wellbeing is threaded through every fabric of the school environment, from the interactive wellbeing displays to the sensory boxes displayed within every classroom. Even with the language barrier our guests were able to identify that relationships were strong, and pupils had a high emotional intelligence. They were impressed with how our pupils were able to talk about their feelings and had a toolkit of strategies to support their wellbeing.
Takeaways from the day
The benefits of building international connections are huge. We are now in talks to arrange future visits to China to hold wellbeing training and workshops, and are looking to link our schools across the globe – an inspiring process for both the UK and Chinese students. It was great to see everyone's willingness to work collaboratively. 
Our visitors also gave us some fantastic feedback.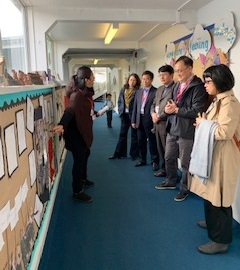 I am very impressed with the culture that the school has in the way that you include all other different cultures from different parts of the world for the children to feel at home here and feel welcome and safe to share how they feel. This is a very positive culture... in the classrooms you encourage children to tell if they feel good or bad, they are truthful to themselves, they don't need to hide, they can be openly admitting how they feel. Most importantly we can see how much heart work you put into the school. 
My reflections
What's evident is that we both want the best for our pupils
After spending the day with our visitors, it was clear there is a whole different mindset, different expectations and hopes. Our pupils in the UK are expected to develop mentally and socially to become well-rounded members of society, while the focus for Chinese students is to achieve outstanding grades in education. 
My hope is that our visitors left with the confidence that they can be a driving force for change in bringing balance to their education system, with an emphasis on positive mental health as well as academic achievement. 
It was empowering to see how the visit had made a huge impact on joining our countries and cultures together; what's evident is that we both want the best for our pupils.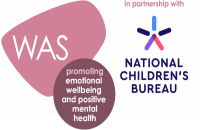 Wellbeing for all
The Wellbeing Award for Schools has proven to have an immense impact on wellbeing in schools for all stakeholders.