Attracting and retaining career changers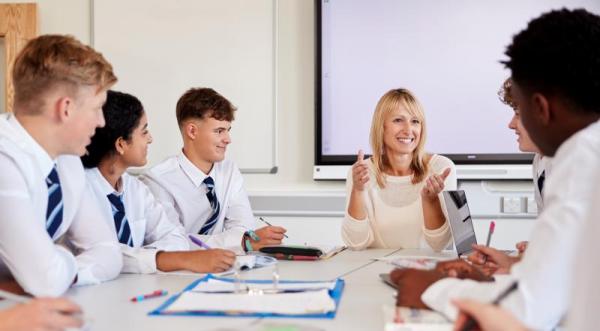 Career changers can bring a wealth of skills and experience to the teaching profession. Nicky Thompson explains how schools can support and encourage new teachers from another sector.
Seven years ago I swapped the boardroom for the classroom when I retrained to be a technology teacher in a secondary school. For people who know me well, this was not a big surprise – I live to learn and now I'm developing a love of learning in my students.
With teacher recruitment shortages in some subjects (such as physics and design technology), how can school leaders attract and retain more career-changers like me and what are the benefits of doing so?
Here are some factors to consider.
Use your existing career changers as case studies and role models
I was in my 40s when I applied for teaching training and I was worried that I was too old. This was reinforced by the recruitment adverts, which almost exclusively featured recent university graduates.
But when I turned up at an event, I was relieved to see other more mature candidates – only to find out they were the parents of recruits. I almost ran for the hills!
Case studies featuring a diverse range of existing career-changers can be very powerful. When used on professional networking sites like LinkedIn, these different journeys into teaching can inspire others to find out more.
Holding specific recruitment events aimed at career changers, and led by teachers who have successfully made the transition to the classroom, can also reassure potential recruits that retraining is achievable, regardless of age or background.
Recognise that a return to academia can be intimidating
For some career-changers it might have been more than 20 years since they last applied for a formal qualification or tackled any tests or essay writing.
I understood the UCAS process as I'd supported my children through their own applications for university. However, I was very anxious about the online literacy and numeracy tests. They turned out to be very straightforward in the end but the notion of online tests against the clock was terrifying!
Other mature trainees struggled to remember the conventions of academic writing or found it difficult to juggle family commitments with lesson planning, gathering evidence against the teacher standards and meeting deadlines for researching and writing essays on pedagogical issues.
If you have a potential career-changing recruit who's a natural in the classroom but is finding the PGCE/QTS demands daunting, refer them to the government-funded Transition to Teach service for professional guidance and buddy them up with a recently qualified teacher in school who can give them moral support.
Acknowledge the shift career-changers are making
Many career-changers will be adjusting to big changes in their professional and personal lives when they choose the teaching profession.
I was considered an 'expert' in my director role and became a 'novice' QTS trainee overnight. My earnings also dropped to a quarter of what they once were and I left behind a great deal of autonomy and flexibility to organise my working day.
I undoubtedly gained a huge amount by becoming a teacher but there was definitely a period of adjustment and doubts about whether I was doing the right thing.
I've also witnessed some trainees and recently qualified teachers leaving the profession before they really got going because they were struggling to adjust.
Provide opportunities for career-changers to network with others who can help them see the light at the end of the tunnel. Sometimes sharing these struggles is all it takes to get some perspective on the issue.
Identify and use their transferable skills
Every career-changer will bring with them a wealth of workplace skills and experiences. My school was a little slow to recognise that I had networks, skills and expertise that they could harness and it was frankly a bit demoralising. 
It's mutually beneficial to acknowledge and use the knowledge, skills and expertise of career-changers – it makes the recruit feel valued and the school and students gain added value in the classroom and for extra-curricular activities. For example:
Experience of running or attending meetings could make the recruit ideal for the governing body.
Expertise in communications could add value to the school's media relations or social media presence.
Networks in the local business community could be utilised to enhance careers events or unlock work experience or apprenticeships for students.
Managerial and leadership experience could mean that recruits are able to lead CPD sessions on a wide range of subjects such as coaching, time management or teamwork.
Sharing up-to-date knowledge and real-world experiences can be more engaging and meaningful for students. As such, recruits could, on occasion, be 'guest speakers' to support learning in subjects other than their own.
Expertise could also be used to support extra-curricular activities, such as STEM or debating clubs.
There's no doubt that career-changing into teaching was the right decision for me. I love working with young people and it's very satisfying to be making a difference to their lives.
I also believe that career-changers have a lot to offer the school community as a whole. Some may require additional support from time to time, but school leaders could gain a huge return on their investment if they set their sights on a recruit that already has a wealth of transferable knowledge, skills and expertise at their fingertips.