Listening, honesty and humanity: how leaders can best support behaviour
It's easy for school leaders to forget what's it like to deal with challenging behaviour on a daily basis in the corridors and classrooms. Adele Bates shares top tips from Bukky Yusuf.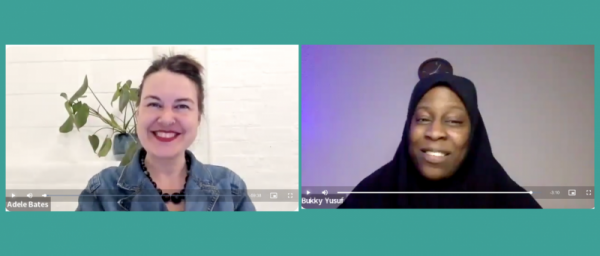 Last month in my "We give a sh*t" Behaviour Membership I was thrilled to host the first guest speaker session with deputy head and coach Bukky Yusuf.
We tackled topics around how we as staff and leaders manage ourselves when the behaviour going on in school is *tricky*, and also how we work alongside and support staff who have different approaches to behaviour than us. In this post, I share some of Bukky's top tips.
Check in
Before approaching a member of staff or colleague about a behaviour incident, check in with them, see how they are doing in a wider context. Most of us know that feeling – when there are challenges in other parts of our lives, it can be much harder to look after ourselves when behaviour is challenging us at school.
Has it been resolved?
Next, find out where the member of staff is, in their own head and understanding regarding the incident. These questions might be helpful.
Is the incident resolved in your mind?
Can we move on from it?
Are there any particular aspects that need to be addressed?
Bukky advises that this is a good place to start from, because if they are worried about something else happening, then it gives you an opportunity to support and follow through with that.
Dissect
Once you know that the member of staff has a sense of resolution (and possibly even safety), then if the situation needs to be dissected, you are more likely to get an objective and less emotional response. You can use conversation frameworks to do this if you're uncertain as to how.
Try not to feel blame
Sometimes the criticisms from staff about behaviour across the school can feel very personal when we're in leadership. It can be a criticism of some of our work. Whilst that may or may not be true, in order to support the member of staff to ultimately support the young person, our own egos need to take a pause if possible!
Listen
Listen to what is being said.
You might have written the behaviour policy, you know how it *should* go, and how it *should* be implemented – and yet you have someone in front of you telling you that in reality, something different is happening. All of the best behaviour and relationship policies are living documents – they have to be because behaviour, pupils, contexts (and global pandemics) change.
In this moment you have a choice: fight your corner…
Or listen to what's being said. Find out what's not working, what needs to change within the system and/or where the staff member may need more support or training.
Be honest
It's infuriating as a member of staff in a school, to pull up the courage to share with a senior leader honestly about behaviour challenges (especially as for some they feel this may affect their performance-related pay; whether it does or doesn't in reality, many staff hold this fear), only to have the leader paint a rosy coloured picture of the strategies and systems.
As much as is professionally appropriate – be honest.
'Yes, we're aware that's not working. This is what we're proposing to try, it may not work straight away, but are you willing to help us with this?' – is much more productive than: 'Oh, but 9F2 is fine with me…'
Create feedback systems
It is useful to consider how staff and pupils can feedback to senior leaders. What systems are in place for all parties to share what's working and what needs to change? Is there a way to do this so that the leadership team don't feel personally attacked, and the staff and pupils feel confident they will be heard?
Do a stress test
'I'm always keen to hear the experience of the staff who teach the most number of lessons and have interaction with the most number of students about behaviour management, because they can really stress test… to find out, does it really work?'
When was the last time you spoke constructively to your cover supervisors, LSAs, and lunchtime staff about behaviour management? What can you learn?
Remember what it's like
When you – the head of year, assistant or deputy head, or headteacher – walk down the corridor, just because of the nature of hierarchy and how humans behave in groups, you are much more likely to have easy and powerful influence on the pupils compared to, for example, the cleaning staff.
When you go to resolve a behaviour issue it is not the same as when they must do it. Remember what that's like.
Retain the humanity
'I have worked in schools as supply, where the pupils didn't know me from a stick of wood, but because of the humanity behind the behaviour systems they had in place, the behaviour was exemplary.'
Throughout the session, Bukky regularly returned to this point – that building positive behaviour in schools, from all levels, is about building positive relationships – as leaders with our staff and creating systems, time and space in which staff can form these important relationships with the pupils.
Want to get connected?
To find out more about Bukky:
And to find our more about the "We give a sh*t" behaviour network, visit our membership page.