Getting the right balance between adult-led and child-initiated learning
As an early years practitioner you will know the importance of creating the right balance between adult-led and child-initiated learning. Help all children learn and develop with this guide.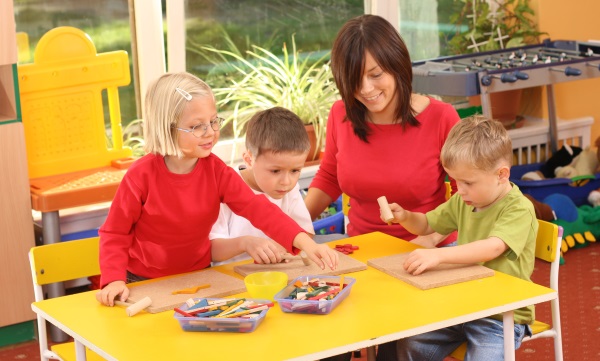 Adult-led activities are based on our own professional understanding of what we should teach young children and what experiences they should have. Through adult-led activities we can introduce children to new ideas, provide opportunities for them to develop their skills and ensure that they experience all areas of learning in the Early Years Foundation Stage (EYFS).
During adult-led learning we can feel that we are in control of the teaching we are providing. However, what we cannot have any control over is what young children are learning from these experiences. This is why it is so important to balance adult-led learning with time and opportunity for children to explore their own ideas, play with resources and use their imagination and creativity.
It is only through doing this and practising the skills that they have learned that children will be able to take ownership of their learning and be able to apply it in different situations.
To provide high-quality experiences for young children we should aim for a balance of adult-directed activities and child-initiated activities - a third each is common. The other third of the time should ideally be taken up by child-initiated activities that are then picked up on and supported by an adult – these are opportunities for 'sustained shared thinking' to take place.
These ratios are of course flexible, depending on practitioner judgement and the individual needs of each child.
When explaining to colleagues and parents the importance of children's self-initiated play and learning you may find it useful to use the phrase 'the serious business of play'. This comes from the Foundation Phase framework in Wales and is very effective in giving children's self-initiated play and learning the importance it deserves.
Children learn through first-hand experiential activities with the serious business of 'play' providing the vehicle. Through their play children practise and consolidate their learning, play with ideas, experiment, take risks, solve problems, and make decisions…
First-hand experiences allow children to develop an understanding of themselves and the world in which they live.
Practical ideas
The role of the adult in child-initiated learning is to:
organise the physical environment so children have access to a wide range of interesting open-ended resources to explore and investigate imaginatively
develop an emotional environment where children feel safe to share their thoughts and ideas and try things out without being afraid that they might 'get things wrong'
manage the routine of the day to make sure that children have time to follow their own ideas and develop their self-initiated play
teach children the practical skills they need to handle tools and equipment safely
help children to develop the social skills and dispositions they need to cooperate with others and work as part of a team
observe and document children's learning and use this information to plan what sort of opportunities and experiences to offer children next to deepen their understanding.
To support child-initiated learning in your setting, think about how you provide a wide range of interesting open-ended resources for children to explore and use.
Include natural materials such as sand, clay and water.
Present wood, shells, polished stones, leaves, cones, and seed pods attractively – in wicker baskets or wooden sorting trays for example – and provide high-quality magnifiers to encourage children to look closely and ask questions.
Use reclaimed materials from creative recycling centres such as cardboard tubes, lengths of fabric and ribbon, coloured bottle tops, large buttons, plastic offcuts, pieces of leather, small containers. Store these in divided wooden or plastic trays and encourage children to resort the materials when they have finished using them.
Provide a wide range of flat and curved mirrors – in different places and at different angles to one another – to create unusual reflections and present resources in interesting ways.
Create a darkened area in your setting where children can explore light and shadow – using a light box, torches or an overhead projector. This could be in a darkened room, in a den or simply under a table with a heavy cloth draped over it.
Make sure children have access to the outdoors and that you provide resources for them to explore and investigate on a large scale. Outdoors is the best place to really explore how water behaves when you pour and tip it, pump it or carry it around.
More from Optimus
Become an Optimus member
Optimus Education is dedicated your school's improvement. As an Optimus member, you receive access to our online library of resources, policies and training courses.
From bright ideas for early years management to Ofsted recommendations, we have everything you need to provide effective provision in your early years setting.