Credit to supply teachers everywhere!
Turning up at a school you've not been to before, with pupils and staff you don't know, is no mean feat. Mel Greenwood flies the flag for supply teachers and explains how to look after them.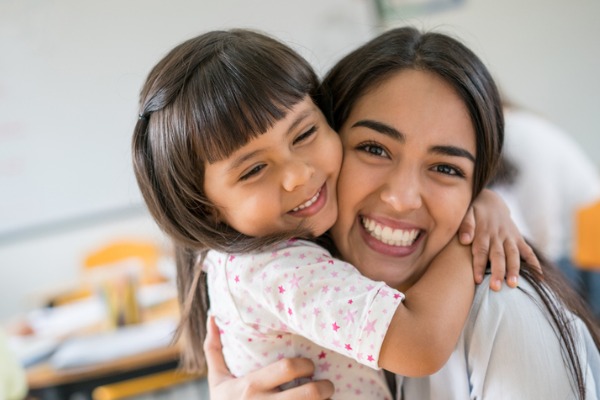 On a short career break and while waiting for my dream job to come along, I decided to apply to start doing supply teaching. This would be easy work I thought and tide me over nicely. 
What I found was that diving into the world of supply was scary! I, a deputy headteacher for six years, working in education for 17 years, felt out of my depth!  
Navigating the challenges
After preparing a mountain of paperwork to be signed up to the agency, it was time to choose jobs. I tend to apply for day jobs that come through in advance because the thought of finding out where I am on the day gives me actual palpitations. 
Turning up to a school that you have never been to before, often after a difficult drive following Google Maps and a million diversions, is simply hard. That's before even entering the classroom and realising that you have no relationship whatsoever with the young people sitting in front of you. 
For those of you who have come across any of my blog posts before, you will have read that I advocate for a relationship-first approach. Relationships built on trust and respect are powerful but, supply teachers haven't always got this important tool in their toolbox unless they have been to the school before. 
Supply teachers: building relationships quickly
Having now spent some time in the classroom as a supply teacher myself, I have developed strategies to help ensure that the day is a pleasant and productive one for me and the young people that I am teaching.
The power of names
Carve out at least ten minutes for the register to help build relationships quickly. We all like to share our stories and I find that introducing myself with two quick interesting facts starts a discussion off well.
As each child responds to their name, should they wish (don't force this), ask them to share an interesting fact or two about themselves that other people in the room do not know? This can help you to build a relationship but can also invest time in building the class community. 
Get to know each name if you can. When you respond to a child, if you cannot remember their name, then ask. Use preferred names - if Isabelle prefers Belle, use it.
If your memory isn't the best, take stickers with you and ask the children to create a name tag. Trust that they will use preferred names but also, if there is another adult in the room, ask them to check name tags. 
Keep using names in your feedback. Show the young people you are working with that you have a vested interest in them. 
Don't be afraid to ask for help
Ask what colour pen their teacher uses for feedback; identify a helper who will keep you on track with timings for breaks, assemblies etc and regularly check for understanding.
Am I helping you to understand? Does anyone need me to explain this differently? 
Get talking
Hold a morning meeting. By ensuring that you have displayed a morning message and have left time to talk through the structure of the day with the class you are teaching, you ensure that everyone is on the same page from the outset. 
Have a conversation about learning behaviour early on. Include a focus on setting behaviour expectations of one another. Use vocabulary like determined, kind, respectful, empathetic, and honest and relate these to the behaviours that you hope to see and that pupils can expect from you. 
Choose language carefully. Do not make empty threats or promises that you can't keep, such as 'If this isn't finished, we will all stay in at playtime.' Ensure that your language is kind and inclusive. If you are not sure of preferred pronouns, don't use them - stick with names. That is why it is so important to find out names early on! 
If you are not on morning break duty but can, go outside with the class. Show interest; talk with the young people that you are working with; play football. Continue building relationships throughout the day. 
Debrief at the end of the day/lesson. Talk about what went well. Ask the students to pick out anything they feel could have gone better - don't you do it! Save that for a note for the teacher where you also feedback on the positives from the day.  
Teachers and leaders: setting your supply teacher and students up for success 
There are things that you could do to help set both your supply teacher and class/classes up for success. Things that, in turn, will make your life a little easier when coming back into class.
Think carefully about the work you leave
Double maths or reading comprehension is never going to go down well. There may be certain subject areas or activities that you would rather teach yourself - no worries. Think about the week and what you can leave.
Art is a great subject to leave as is PE and normally will support the supply teacher in developing and fostering good relationships because it is creative and can be enjoyed together. You could look at your school's wellbeing curriculum and find a great unit that would be advantageous for a less well-known teacher to cover.
Leave any useful notes
About home time, lunchtime, assemblies and anything else of this sort. This is when I panic most because otherwise, this time has the potential to be a safeguarding nightmare! 
Please don't write the day off
You should have high expectations and if you have any concerns, share them gently with the supply agency. We are all learning and growing and cannot develop without constructive feedback. 
If you see a different supply teacher, talk to them
If your children see you being welcoming, they will follow suit. Offer us a cup of tea when we come into the staffroom - it can be a daunting lunch hour believe it or not!
Make it clear
If you would like your supply cover to debrief you with a note or a conversation, make it clear. Ask them to share what went well and what they think your class could improve on. This will also give you a clear indicator as to whether this supply teacher is a good fit for your class or not. 
Leave space
Leave space in the timetable for optional team building and/or story time slots that the supply teacher may like to lead.
Show gratitude
I learnt to appreciate the supply teaching community most when working in an international school and managing day-to-day absence. Everyone is absent from time to time, and we all deserve space to look after ourselves - the profession is tough. 
What is also tough, is finding cover for classes when there is no bank of supply teachers available. We need to look after and show gratitude to our supply teachers because they are helping to make our lives easier. 
Best Practice with Teaching Assistants Award
The Best Practice with Teaching Assistants Award  provides a framework for the strategic management of teaching assistants. You will develop clear systems of induction, appraisal, and professional development. This will better support your teaching assistants and boost their impact on positive pupil outcomes.