Why are pupils protesting about school uniforms?
How do you feel about pupil protests? Olivia Dickinson discusses both pupil and staff views on uniform policies and the consequences of these protests.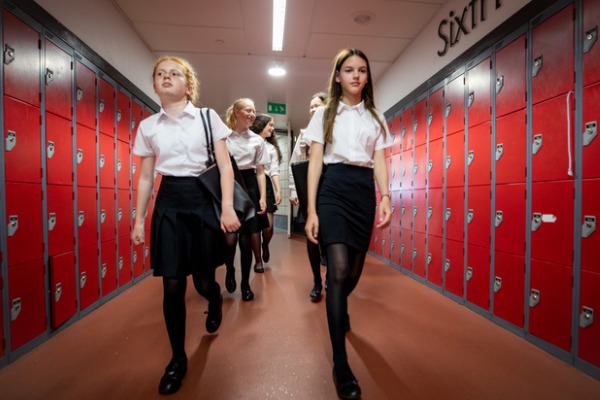 Protests about school uniforms have happened periodically over the years, including the girls at Wirral Grammar School starting a nationwide petition to wear trousers in 2021, and Exeter boys going to school in skirts in hot weather protesting not being allowed to wear shorts in 2017.  
Pupil protests have been in the news recently. Schoolgirls in Merseyside have protested over their skirt lengths being measured by male teachers, and the boys have come out in solidarity, wearing skirts over their trousers.
The Independent reports that after changes to rules about the use of toilets, protests are understood to have taken place at schools in:
Cornwall
Leeds
North Yorkshire
South Essex
Lincolnshire.
Teacher Tapp surveyed teachers recently for Schools Week and found that 20 per cent of teachers reported being aware of protests in their school. When broken down by type of disruption:
10 per cent said they were about policies relating to using the toilet during lessons
seven per cent said they were over skirt lengths. 
The Teacher Tapp survey also found that protests were twice as likely in the most deprived schools, and 'requires improvement' schools were three times more likely to have protests than 'outstanding schools.'
The power of social media
It is hard to find evidence-based research to show whether school uniforms have the benefits that the DfE would argue they bring
In Oxfordshire, the Daily Mail reported that a 'TikTok riot' forced the school to abandon plans to enforce new rules on 'gender neutral' PE kit and a ban on skirts after pupils staged a protest.
Some parts of the media and education are blaming TikTok for the strength and frequency of the protests. Reports of protests across schools in England and Wales have included the police having to be called, furniture thrown, pupils being suspended, and schools being closed. 
While TikTok and social media mean that pupils, parents, and teachers hear about protests across the country more quickly than in the past, it seems disingenuous to blame social media for the protests. The peaceful school strikes for climate, started by Greta Thunberg in Sweden, started in August 2018, and spread without TikTok.
As Francesca Mallen, lead campaigner for @UniformReform and academic specialising in school uniform says, 'pupils, who are in no way disruptive and are at school to learn are finding themselves without a voice in an increasing culture of stricter discipline. Pupils find themselves in a no-win situation, where they can be publicly disciplined even when following the rules.' 
A lack of mutual respect between pupils and staff
Having spoken to a few teenagers at a range of secondary schools across London, Southeast England, and East Anglia, and hearing the reports of when staff have had to concede defeat around policies and changes, two themes emerge most strongly: 
parents and pupils not being consulted
lack of mutual respect between pupils and staff. 
When the Wirral Grammar School girls succeeded with their petition, the heads response was to simply state that, 'the uniform policy was already being discussed by governors.' This shows a lack of communication – how were the pupils to know the uniform policy was being discussed, without being told?
At the Oxfordshire school where the proposal was to make trousers compulsory for all pupils, the executive head apologised for not consulting parents and pupils properly. A Devon high school had the same situation last summer, including that the move to 'trousers for all' was to prevent girls from rolling up their skirts.
'Only the lesbians wear trousers, and the trans kids'
As I have said in a previous blog, the DfE non-statutory guidance says, 'engage with parents and pupils when designing their uniform policy or when making any significant changes – these views should be considered in determining the final policy.'
It surprises me that the SLT and governors at more than one school did not follow non-statutory guidance on school uniforms. This shows a breakdown in respect for pupil voices or parents' concerns in these decisions. 
Giving pupils a voice
I spoke to a year 10 girl in East Anglia who says she and most of her female friends wear trousers every day to school. Wearing a skirt means male or female senior teachers routinely check skirt lengths, asking the girls to stand up individually.
While she hasn't had the same humiliating experience as the Merseyside schoolgirls, she's only worn a skirt once this term. Francesca Mallen is about to publish her research on teacher reaction to skirt length enforcement and told me: 'the overwhelming response was male teachers don't want to do it, feel they risk careers and female teachers find it highly hypocritical.'
Conversely, I've also heard from a year 10 girl at a school on the south coast, who only wears a skirt to school, as do most of her friendship group. She admitted to her mother, 'only the lesbians wear trousers, and the trans kids.'
This is an example of dress codes contributing to stereotypes that the pupils are then reinforcing
School uniform policies are often criticised for reinforcing gender stereotypes and policing girls' bodies through rules around the length of skirts and tightness of clothes, or for not allowing girls to wear trousers. 
This is an example of dress codes contributing to stereotypes that the pupils are then reinforcing. All teenagers wish to express their individuality, but also that they belong to a 'tribe' and manage to do that even when there are uniform rules. 
Why do we need school uniforms?
A US study from 2010 shows uniforms have a negative effect on academic achievement and there are attitudinal studies from YouGov in the last few years that surveyed what teachers, parents and pupils in the UK believed about uniforms, including that 90% of teachers and 50% of pupils agree that having a school uniform helps to reduce bullying.
Most schools for 5–16-year-olds in the UK, Ireland, Malta, Japan and Australia have uniforms, unlike most of Europe and the USA.
The question we rarely ask ourselves here in the UK, and considering the protests, is why do we insist on our school pupils wearing a uniform? It is hard to find evidence-based research to show whether school uniforms have the benefits that the DfE would argue they bring.
Wellbeing Award for Schools
Make your school a place of emotional wellbeing and support by improving mental health provision for all pupils and staff, through the Wellbeing Award for Schools.