School funding, standards and the abolition of private schools: the general election story so far
With manifestos published and polling day getting closer for the 2019 election, Mark Upton identifies the likely flashpoints in education and ambiguities within party policies.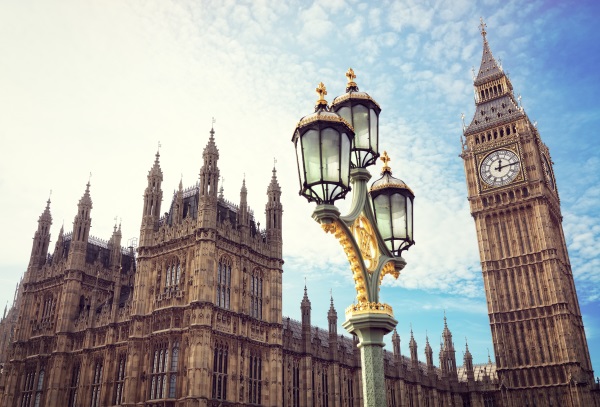 School funding, or the lack of it, was identified as a liability for the Conservatives at the 2017 general election. A poll conducted by Survation found that 750,000 voters cited schools funding as the reason they switched parties, ahead of the economy and university tuition fees, and equal to terrorism. Only the performance of the party leaders, Brexit and social care policy were more influential. Is that the case this time around? What are the parties' proposing? Where are the dividing lines?
What are the parties proposing on schools' funding?
All the main parties are now committed to delivering large increases in school spending over the next three years. The Liberal Democrats are committed to a slightly larger increase than Conservative plans, though both would effectively reverse the 8% cut in per pupil spending over the last decade. Labour would go further still, with a 15% real-terms rise (i.e. taking into account of inflation).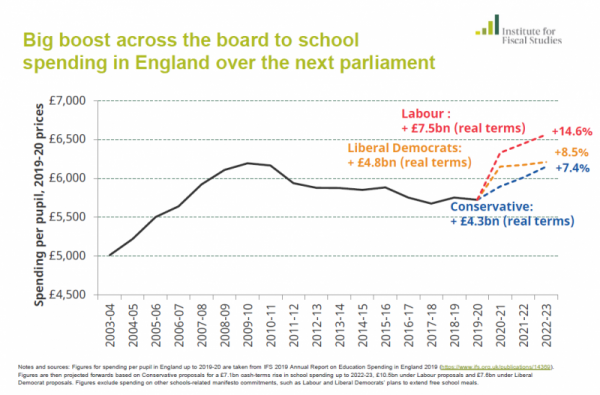 There are differences in the make-up these figures on core schools' funding, and additional funding pledges.
The Conservatives' increase in core funding includes minimum levels of per-pupil funding: £5,000 a year for secondary school pupils and at least £4,000 for primary pupils, from 2021. They have also pledged to increase the starting salaries for teachers to £30,000 while levelling up other salaries, with additional funding on top of core funding for creative arts (in secondary schools), physical education (primary) and for wrap-around support during school holidays for primary school children.
Labour's core funding pledge includes a commitment to capping class sizes to 30 for all primary school classes, with additional spending, again, in creative arts (in primary schools) and on year-on-year above-inflation pay rises for all public sector workers, starting with a 5% increase next April, giving teachers (on average) a £2,000 pay rise.
All the main parties are now committed to delivering large increases in school spending over the next three years
The Liberal Democrats' core funding package includes a pledge to employ 20,000 extra teachers, lifting teacher starting salaries to £30,000 and all teachers pay by 3% per year, increasing professional development to 50 hours per year (by 2025) and clearing the backlog to school repairs.
The Conservatives and Labour both propose to inject around £700 million for special education needs next year, ahead of reviewing funding levels in future years. The Liberal Democrats' will also allocate additional SEND cash and extend free schools meals to all primary school pupils as would Labour.
Will school funding be influential on the vote?
The Conservative Party believes that they have done enough to neutralise schools funding as a campaign issue. Pulling in the other direction are the trade unions doing their best to pick apart the Conservative's figures by pointing out that the introduction of minimum per-pupil funding will mean that schools in non-deprived, and Conservative voting areas, will gain more. However, the school cuts campaign is unlikely to repeat the success of their campaign in 2017 which was brought to life by local parental groups no longer visible now.
That said. education is still an important issue to parents and the public at large. According to Ipsos Mori, education and schools as an issue matters to 18% of adults (but with Brexit and the NHS way ahead). As you'd expect, school is a more important voting issue for parents but only slightly, at 28% (according to NEU's recent poll) – and still behind the NHS and Brexit.
School standards and discipline: an ideological battle
But if by providing the extra cash Johnson's political aim was to take schools off the table for the election, then a series of announcements made by Labour to abolish Ofsted, league tables and SATs has put it back there. 
Clear dividing lines are now being carved out by the Conservatives: 'Labour would weaken standards, weaken discipline, and make it harder for parents and others to evaluate the education of their children'. They are now calling for a bigger role for Ofsted with plans for longer inspections, focusing on behaviour, bullying and ex-curricular activities such as sport. They want trials for no-notice inspections where schools could be visited without any prior warning and an end to the routine inspection exemption for outstanding schools. 
Labour argue that Ofsted is 'unfit for purpose' in not only failing to give parents an accurate account of schools standards, but in fuelling a crisis in teacher recruitment. They want to replace Ofsted with a two-phase inspection system whereby local authorities conduct routine health checks of schools with longer, more in-depth specialist inspections carried out by a new national inspectorate, without the current headline grades for schools.
Much of that critique has come from the teaching profession and their unions, but commentators have suggested that Labour may have misjudged the strength of the Ofsted brand and the popularity of league tables and testing with parents. They go as far as suggesting that by insisting that Ofsted itself must go, Labour has ensured that Johnson's line of attack on standards will play just as well with parents of school-age kids as the funding cuts did in 2017. 
Are the Conservatives in favour of more or fewer school exclusions?
As part of its narrative of being tough on school standards and on classroom behaviour, the Conservatives have said that they would continue to 'back teachers on discipline' and 'back heads to use exclusions'.
Behaviour hubs will share best practice, Ofsted will be taking a closer look at behavior management, and according to a leaked report new guidance may be issued supporting the use of reasonable force, including: searching and confiscating items from pupils; imposing same-day detentions; and banning mobile phones.
The Conservatives had said that they would continue to 'back heads to use exclusions'
the Conservatives have said that they would continue to 'back teachers on discipline' and 'back heads to use exclusions'.
This appears to be a complete change of direction from the one taken by Gavin Williamson's predecessor Damian Hinds, who wanted to tackle the acknowledged problem of off rolling by ensuring that exclusions are only used as a last resort. Hinds had promised a consultation – in response to the Timpson review – on making schools accountable for the educational outcomes of the pupils they exclude. Now, Williamson and his party's manifesto talks about backing heads on exclusion and expanding alternative provision. To what degree this signals a change of direction is unclear, as political manifestos often have a different tone and language than government policy.
Will private schools, academies and free schools face the axe under a Labour government?
Labour have their own ambiguity going forward as they navigate between the demands from their party members, the electorate, and what is possible to deliver in government. 
Labour Party members voted at their last conference for an immediate end to private schools, academies and free schools. However, the manifesto doesn't go that far, choosing instead to confirm previously announced party policy that academies and free schools will be brought under the oversight of local authorities and operate under a 'common rule' alongside maintained schools. Local authorities will be responsible for managing admissions, and have responsibility for school places including the power to open new schools. What is absent are previous statements that no more new academies and free schools will be created and that existing ones will be returned to local authority maintained status at some point down the line. This didn't go far enough for party members, indicating there is no firm agreement within the party on how to proceed or at least on the pace of reform.
Labour argue that Ofsted is 'unfit for purpose'
What seems clearer is that Labour wants to downgrade the role of multi-academy trusts with the hope that they whither on the vine with individual academies given control of their own budgets, strengthened governance drawn from the local community, while operating under the oversight of local authorities.
As expected on private schools the manifesto stops short of calls from the party members to immediately begin to integrate them into the state sector. Rather a Labour government will remove their tax advantages, which comes with their charitable status. And in a move which suggests that Labour's ambitions do not stop there, they would ask their Social Justice Commission – which would replace the current Social Mobility Commission – to advise them on 'integrating private schools and creating a comprehensive education system'.
Some point out that this merely kicks the issue into the long grass. It might also lead to a compromise in the form a voluntary funded conversion scheme to integrate private schools into the state system. This might be attractive or indeed, the only option for smaller independent schools unable to financially cope with the removal of their tax benefits to stay open.
And the sting in the tail…
And finally, the sting in the tail for this election – certainly on education – might come in the form of the latest PISA results, published a matter of days before polling day. Michael Gove frequently used England's PISA performance as a justification for the sweeping schools reforms he would introduce from 2010. How will PISA judge those reforms and the record of successive Conservative-led governments?