5 steps to creating an aspiration
Learn the 5 aspects of creating an aspiration and the right attitudes and behaviour you and your pupils need with our downloadable poster.
All pupils should have aspirations. The concept is far from new, yet the focus on creating and working towards aspirations in a learning environment has dramatically increased over the last few years. Now, raising aspirations is an idea that runs through the Teacher's Standards, the 0-25 SEND Code of Practice, the National Curriculum and Ofsted's Common Inspection Framework.
Aspirations for all pupils
One common misconception is that aspirations belong solely in the realm of SEND, but when you look into what underpins an aspiration it is easy to see how they can apply to all pupils. The reasoning behind our poster was that in order to set, work toward and achieve an aspiration you need a lot of courage, open-mindedness and determination. All of us know how hard it is to stick to a plan – how many times have you given up on a new year's resolution? So if we are expecting pupils to create and sustain aspirations themselves then we need to understand that it can be quite a daunting task!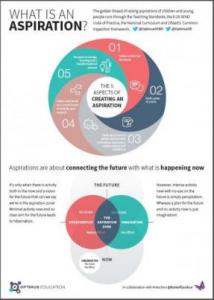 Breaking it down
Our poster, created in collaboration with Anita Devi, breaks creating an aspiration down into 5 manageable chunks and explains how staff and pupils can position themselves mentally to properly take on the task.
The 5 aspects of creating an aspiration are:
Define a vision for the future.
Draft a plan of action.
Think about how to sustain and increase motivation, inspiration, independence and confidence.
Define and work on current levels of activity and support.
Be open to change, learning and a transformational process.
By breaking an aspiration down into these 5 aspects it is easier to map out the areas that need to be considered. It might be too much to expect all pupils to go through these 5 steps in one go. Some pupils may prefer to have time to think about each section. This makes it easier to schedule time slots for building up an aspiration, meaning it does not appear as such a big task and hence becomes perfectly achievable.
Aspiring to achieve
Aspirations can relate to any aspect of life or personal development. Preparing for Adulthood has identified four areas to focus on: employment, independent living, community inclusion and health. A person-centred approach in defining aspirations and outcomes is part of the new way of working under the SEND Reforms 2014.
The second part of the poster demonstrates how aspirations are about connecting the future with what is happening now. In order to be able to create a plausible aspiration (get in the aspiration zone) you need to be making effort now and setting goals for the future. If you set goals for the future but are not making effort in the present then those goals will remain in your imagination. Similarly you could make loads of effort now but fail to set goals for the future and simply perspire! The worst place to be is in hibernation – not setting any goals for the future or making any effort now – because you won't achieve anything. 
Additional Reading: Special Children (February 2016) has a useful article on writing outcomes.